- THE INTERNATIONAL PATTERN & ITS ANOMALIES -
-78-
This deck shows sporting bears on the courts and each one represents a different sport. It's refreshing to see that almost all the designs are different. Here no mirroring or other tricks.
The center design is different on each card, but each has a circle in the middle with the letter H. All the attributes have been replaced by sport's gear. The use of a bear in the designs is a reference to the almost identical pronounced "beer", which is promoted with this deck.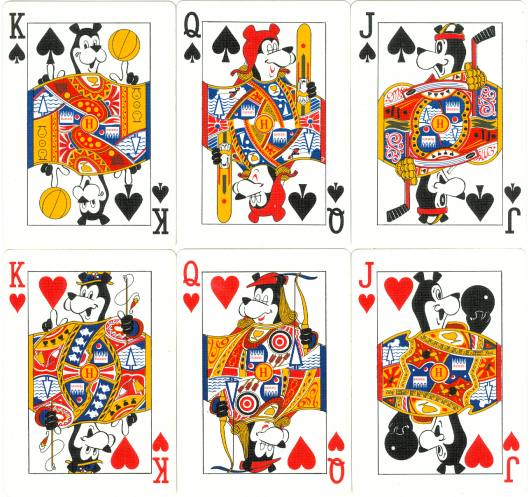 The deck was made in the US by Stancraft and published as an advertising deck for Hamm's Beer in 1968.

The deck consists of 52 cards and 2 identical jokers.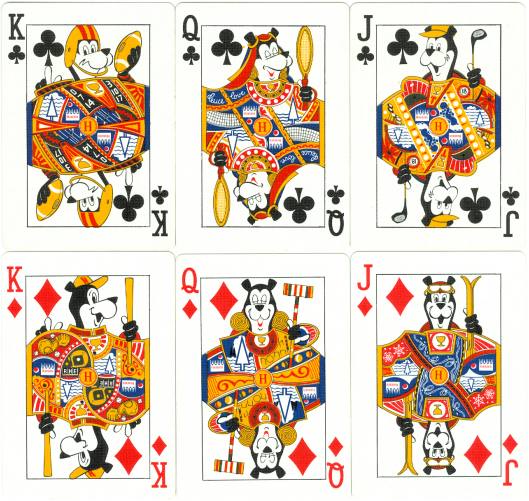 -0-
-1- -2- -3- -4- -5- -6- -7- -8- -9- -10-
-11- -12- -13- -14- -15- -16- -17- -18- -19- -20-
-21- -22- -23- -24- -25- -26- -27- -28- -29- -30-
-31- -32- -33- -34- -35- -36- -37- -38- -39- -40-
-41- -42- -43- -44- -45- -46- -47- -48- -49- -50-
-51- -52- -53- -54- -55- -56- -57- -58- -59- -60-
-61- -62- -63- -64- -65- -66- -67- -68- -69- -70-
-71- -72- -73- -74- -75- -76- -77- -78- -79- -80-
XPOHOME