- THE INTERNATIONAL PATTERN & ITS ANOMALIES -
-32-
The following deck was also published in the US, but made in China. The faces have been replaced by those of elderly people. The designer only used 3 basic faces and 3 basic center designs, mirrored these randomly and then has made some changes in coloring.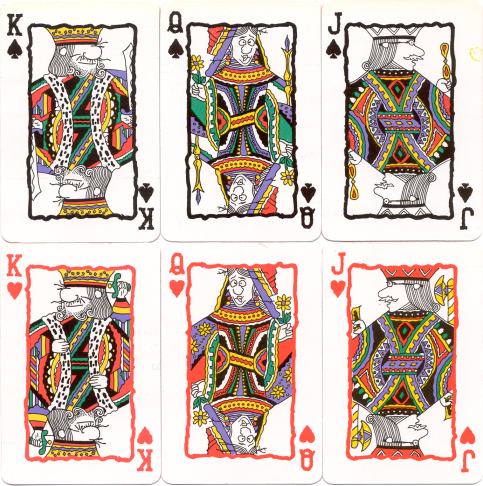 The "Estro Ginny" deck was made in China, but published by Trisar Inc. in the USA, together with a male equivalent "Old Geezer" deck, in 1995.

The deck consists of 52 cards + 2 jokers.

There's a short text on each of the numbercards.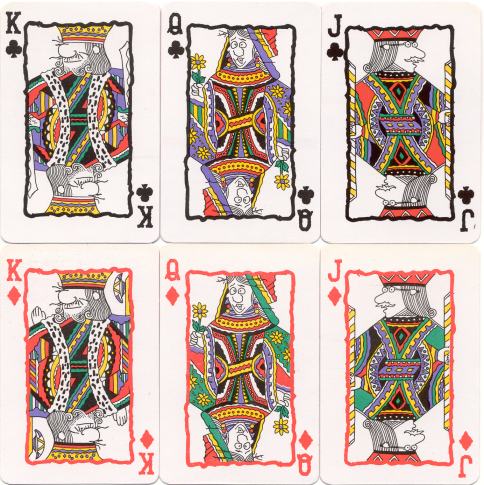 -0-
-1- -2- -3- -4- -5- -6- -7- -8- -9- -10-
-11- -12- -13- -14- -15- -16- -17- -18- -19- -20-
-21- -22- -23- -24- -25- -26- -27- -28- -29- -30-
-31- -32- -33- -34- -35- -36- -37- -38- -39- -40-
-41- -42- -43- -44- -45- -46- -47- -48- -49- -50-
-51- -52- -53- -54- -55- -56- -57- -58- -59- -60-
-61- -62- -63- -64- -65- -66- -67- -68- -69- -70-
-71- -72- -73- -74- -75- -76- -77- -78- -79- -80-
XPOHOME