- THE INTERNATIONAL PATTERN & ITS ANOMALIES -
-76-
The following deck was designed by several designers and a good number of them took the international pattern as inspiration. Notice the use of a different type font on each of the cards. The Jack of Spades is one-eyed, but the King of Hearts isn't suicidal. Although....he points his finger upwards, maybe meaning to say that he's already on his way up. The Ace of Spades bears the name of the publisher and is designed in the classic way for an Ace of Spades in the international pattern. The other aces have a special design too, but more modern and frivolous.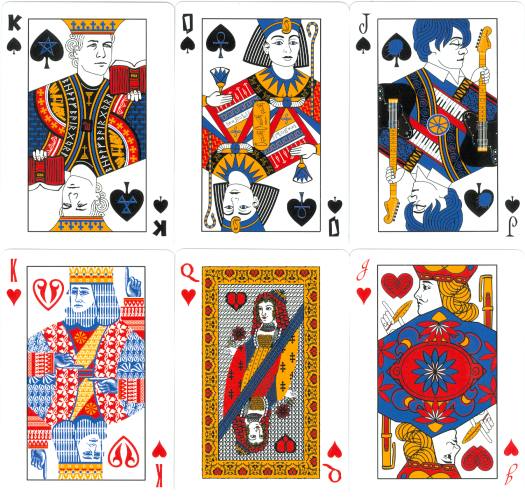 The deck was printed in China and published in the US by the P22 Type Foundry in 2009.

The deck consists of 52 cards, 2 jokers and 3 extra cards.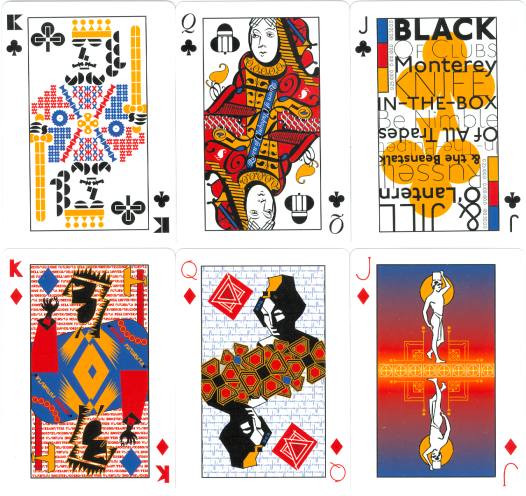 -0-
-1- -2- -3- -4- -5- -6- -7- -8- -9- -10-
-11- -12- -13- -14- -15- -16- -17- -18- -19- -20-
-21- -22- -23- -24- -25- -26- -27- -28- -29- -30-
-31- -32- -33- -34- -35- -36- -37- -38- -39- -40-
-41- -42- -43- -44- -45- -46- -47- -48- -49- -50-
-51- -52- -53- -54- -55- -56- -57- -58- -59- -60-
-61- -62- -63- -64- -65- -66- -67- -68- -69- -70-
-71- -72- -73- -74- -75- -76- -77- -78- -79- -80-
XPOHOME