- THE INTERNATIONAL PATTERN & ITS ANOMALIES -
-51-
In the Tactics deck only the attributes of the courts have been kept and there's a suicide King and one-eyed Jack. The usual complex center design is solid black here and there's a yellow colored background with minimal black ornamentations. The heads of the courts seem to be imprisoned in their highly stylized garments and crowns, because the style in which they were drawn is in great contrast with the rest of the design.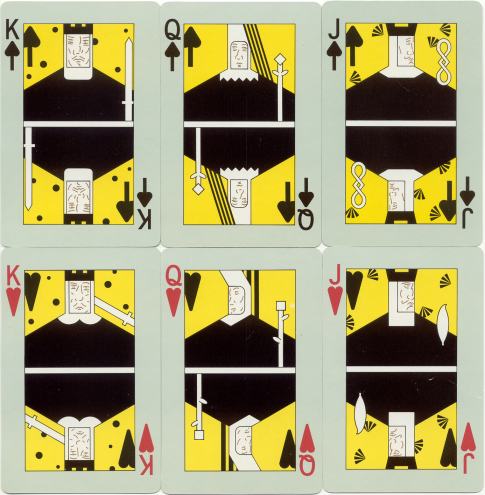 The "Tactics Members" deck was printed by Nintendo from Kyoto, Japan, in 1982.

The deck consists of 52 cards and 2 jokers.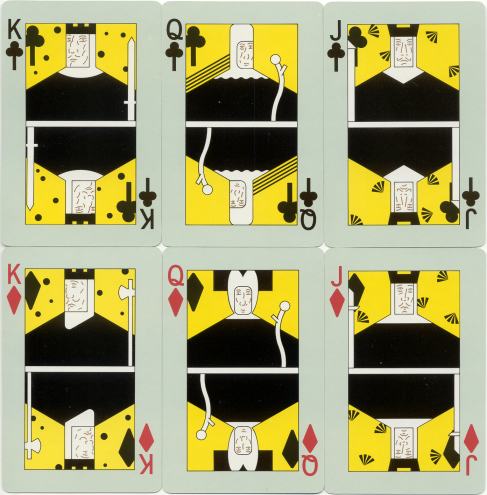 -0-
-1- -2- -3- -4- -5- -6- -7- -8- -9- -10-
-11- -12- -13- -14- -15- -16- -17- -18- -19- -20-
-21- -22- -23- -24- -25- -26- -27- -28- -29- -30-
-31- -32- -33- -34- -35- -36- -37- -38- -39- -40-
-41- -42- -43- -44- -45- -46- -47- -48- -49- -50-
-51- -52- -53- -54- -55- -56- -57- -58- -59- -60-
-61- -62- -63- -64- -65- -66- -67- -68- -69- -70-
-71- -72- -73- -74- -75- -76- -77- -78- -79- -80-
XPOHOME