- THE INTERNATIONAL PATTERN & ITS ANOMALIES -
-75-
The following deck is a political deck, that was published to support Barry Goldwater in his race for the presidency of the USA against Lyndon Johnson in 1966. There are only 4 different pictures of Mr. Goldwater used as insert in the heads of the courts. By mirroring and exchanging places it looks as if more were used. The joker shows a donkey, symbol of the opposition, wearing a hat. The "AuH2O" is the name of Goldwater, as spelled in chemical terms: "Au" is the term for gold and "H2O" the term for water.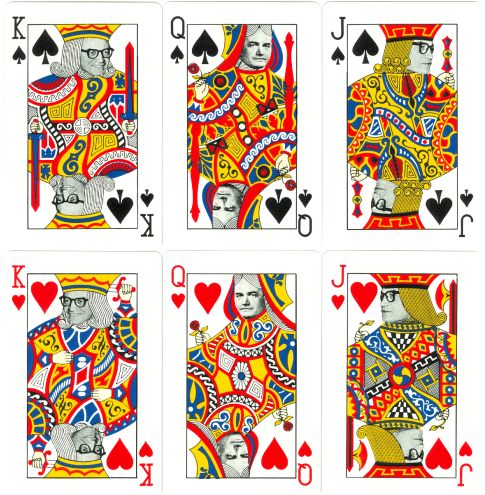 The deck was printed by Brown & Bigelow from St. Paul, USA and published by the campaign team of Barry Goldwater as "AuH2O" in 1966.
There are 52 cards and one joker..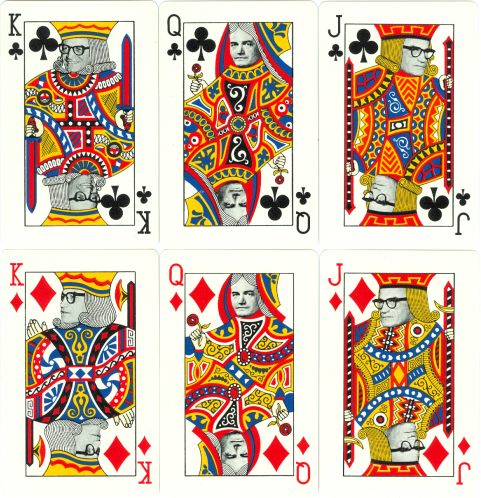 In the last deck here the designers were not even that inventive. Here too only 4 designs were used for advertising Schlitz Malt Liquor on the courts. The Kings and Queens have the exact same design in all suits, but there are two designs used for the Jacks, of which one shows a one-eyed Jack and (half) a green circle. This design was also used in the Hearts suit. The design of the Jack of Diamonds is also used in the Clubs suit. Mirroring wasn't used.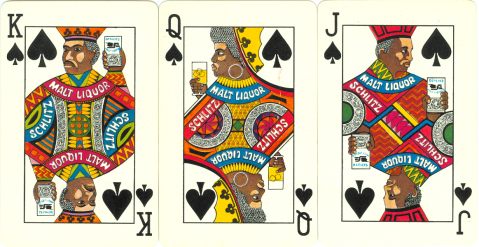 The deck was printed in the US and it was published by the Schlitz Brewing Co. from Milwaukee in 1970.
-0-
-1- -2- -3- -4- -5- -6- -7- -8- -9- -10-
-11- -12- -13- -14- -15- -16- -17- -18- -19- -20-
-21- -22- -23- -24- -25- -26- -27- -28- -29- -30-
-31- -32- -33- -34- -35- -36- -37- -38- -39- -40-
-41- -42- -43- -44- -45- -46- -47- -48- -49- -50-
-51- -52- -53- -54- -55- -56- -57- -58- -59- -60-
-61- -62- -63- -64- -65- -66- -67- -68- -69- -70-
-71- -72- -73- -74- -75- -76- -77- -78- -79- -80-
XPOHOME