- THE INTERNATIONAL PATTERN & ITS ANOMALIES -
-2-
As said, advertising is the main purpose that has lead to various modifications of the pattern. The Prudential insurance company has published the "Piece of the Rock" deck in the early 1970's.
The deck has photo-inserts of actors from 3 popular TV-series on the courts. Telly Savalas on K's, Fionda (?) on Q's and Alan Alda on J's. There's a certain "J.J." on the joker.
The number cards have a repeating series (per suit) of photo's and designs to promote other TV-series that were sponsored by Prudential.
Working with photo-inserts is a relatively easy way of adapting the pattern, from a designer's point of view. More interesting are the drawn adaptations. Fortunately these have been made for a long time and they come in various forms and levels.
Very simple ones, like the advertising deck for Winston, celebrating the 20th anniversary of Winston sponsorship of motor sports in 1991. Here only the K's were adapted, repeated per suit. The deck was printed by the USPCC.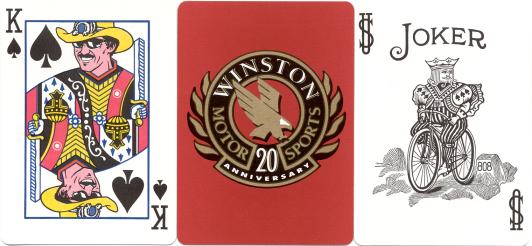 More complex modifications here below in an older deck, that was published between 1928 and 1940 for the Pep Boys, a chain of car-supplies stores. The faces of the founders (Manny, Moe and Jack) have been drawn and replace the K's, Q's and J's in each suit. Repair utensils and other products from their stores are cleverly incorporated in the center design. They are also on the Ace of Spades and (no) joker.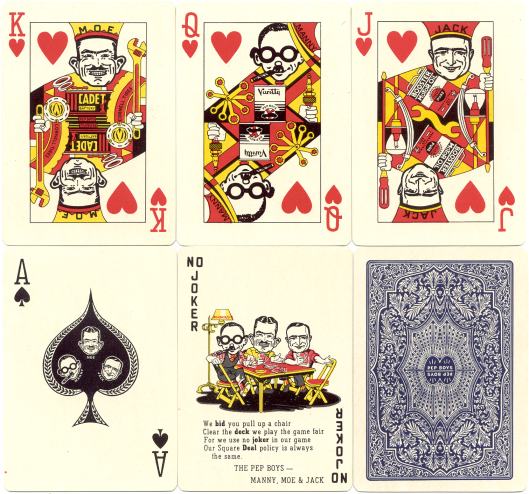 -0-
-1- -2- -3- -4- -5- -6- -7- -8- -9- -10-
-11- -12- -13- -14- -15- -16- -17- -18- -19- -20-
-21- -22- -23- -24- -25- -26- -27- -28- -29- -30-
-31- -32- -33- -34- -35- -36- -37- -38- -39- -40-
-41- -42- -43- -44- -45- -46- -47- -48- -49- -50-
-51- -52- -53- -54- -55- -56- -57- -58- -59- -60-
-61- -62- -63- -64- -65- -66- -67- -68- -69- -70-
-71- -72- -73- -74- -75- -76- -77- -78- -79- -80-
XPOHOME