- THE INTERNATIONAL PATTERN & ITS ANOMALIES -
-40-
In this deck the designs are more "flat" than in the previous deck and that makes the pattern look just a bit closer in resemblance with the international pattern. But basically the same features were used: the center design shows Ethiopian garments and the attributes have been replaced by Ethiopian ones.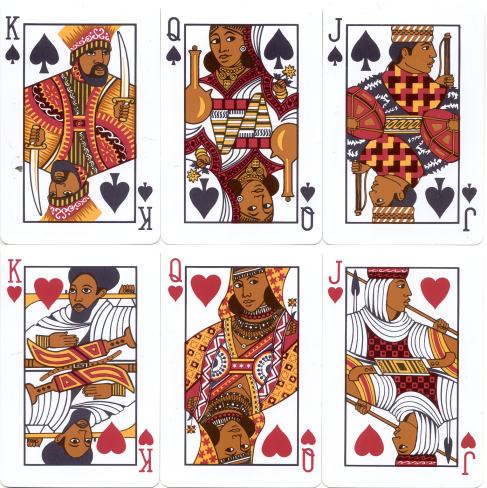 The deck was most likely printed by De La Rue and again published for the E.T.T.C. The designs are by Jill Last.
The deck consists of 52 cards, 2 jokers and 1 extra card.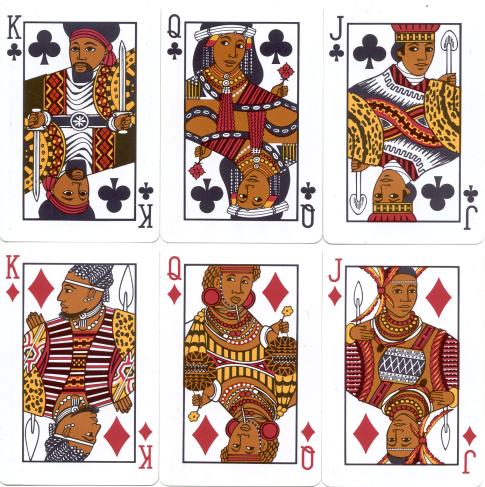 -0-
-1- -2- -3- -4- -5- -6- -7- -8- -9- -10-
-11- -12- -13- -14- -15- -16- -17- -18- -19- -20-
-21- -22- -23- -24- -25- -26- -27- -28- -29- -30-
-31- -32- -33- -34- -35- -36- -37- -38- -39- -40-
-41- -42- -43- -44- -45- -46- -47- -48- -49- -50-
-51- -52- -53- -54- -55- -56- -57- -58- -59- -60-
-61- -62- -63- -64- -65- -66- -67- -68- -69- -70-
-71- -72- -73- -74- -75- -76- -77- -78- -79- -80-
XPOHOME