- THE INTERNATIONAL PATTERN & ITS ANOMALIES -
-59-
The next showcase holders here are labeled "Portugal" and "Russia". Neither are represented here. Although we have only a very small collection of Portuguese made decks, we do have a pretty big collection of Russian decks, mostly recent ones, but also older ones. And although the largest Russian manufacturer, the C.P.P. from St. Petersburg has 1 international patterned deck in their product range, we haven't been able to find 1 other deck in our Russian collection that would fit in this xpo.
So our next stop is "Scandinavia", which contains decks from Denmark, Sweden, Norway, Iceland and Finland. The first 4 countries didn't score for this xpo, but in Finland there's a new cardmanufacturer, that publishes advertising decks for Finland. The company is called Tactic and their designers have a weird way of handling the international pattern.
In the first deck the Spades and Hearts show a regular pattern and only the Clubs and Diamonds were adapted: probably "a word from our sponsor" on the KC and a sudden loss of color on the KD and who is that guy on the Jack of Clubs?????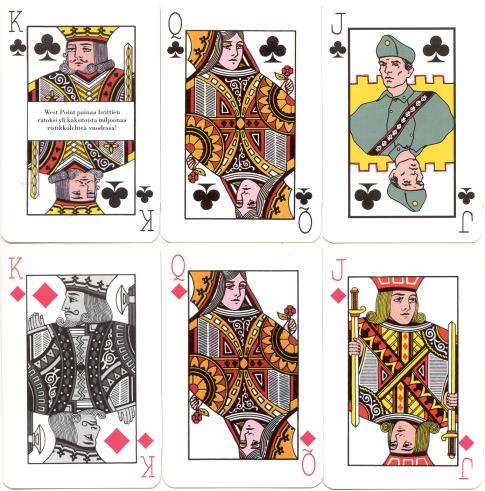 The deck was printed and published by Tactic from Finland as "Kellokortti WP" ca. 2000.

The deck consists of 52 cards and 2 S-cards (jokers?)
The second deck uses the international pattern as a large background for a female model that represents the K's, Q's and J's in each suit. It's the first time that we've seen this effect being used. The Ace of Spades has the maker's name and all the numbercards show different products of the Würth Sports line.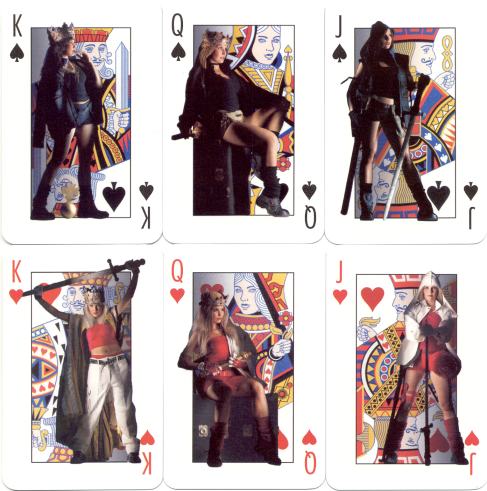 The deck was published by Tactic from Finland as an advertising deck for Würth Sport, probably in 2004.

The deck consists of 52 cards, 2 jokers and 1 extra card.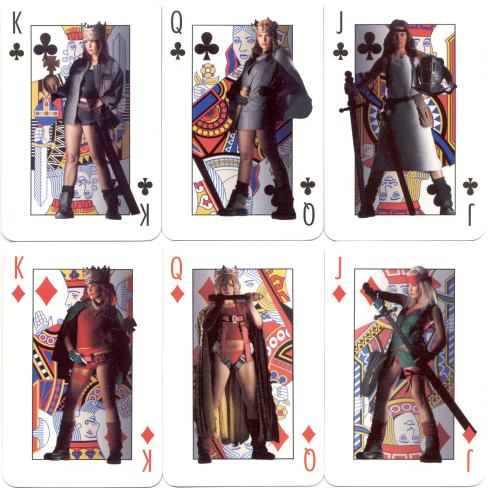 -0-
-1- -2- -3- -4- -5- -6- -7- -8- -9- -10-
-11- -12- -13- -14- -15- -16- -17- -18- -19- -20-
-21- -22- -23- -24- -25- -26- -27- -28- -29- -30-
-31- -32- -33- -34- -35- -36- -37- -38- -39- -40-
-41- -42- -43- -44- -45- -46- -47- -48- -49- -50-
-51- -52- -53- -54- -55- -56- -57- -58- -59- -60-
-61- -62- -63- -64- -65- -66- -67- -68- -69- -70-
-71- -72- -73- -74- -75- -76- -77- -78- -79- -80-
XPOHOME