- THE INTERNATIONAL PATTERN & ITS ANOMALIES -
-58-
In Austria (here filed as "Oostenrijk") there is only one major cardmaker left: Piatnik from Vienna. The company produces different standard patterned decks and among them is the international pattern. Austrians however still play their local games, like tarok, with their own standard decks and there's a wide variety of luxury, special patterned decks made by Piatnik that are often used for bridge or patience there too. So the international pattern is known in Austria, but not often used, besides in casino's. It's not really surprising then that we only have found one nonstandard deck, that's based on the international pattern, in our Austrian collection.
It's a "cat" deck again and if you've seen all the previous pages it should look a bit familiar. The deck on page 43 was designed by the same woman. The designs there were printed in black/white and although they look very similar, they are not. But this deck was obviously based on the previously published deck.
By using earth-tone colors the design has become fuller and more natural. Some of the features from the first deck are repeated: a suicide king, the flowers of the Queens. And here too all the aces are specially designed too.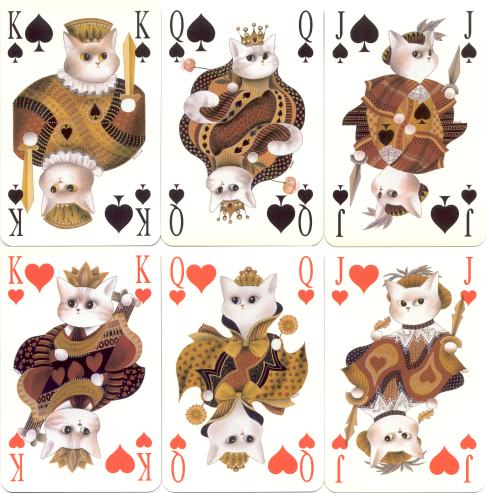 The deck was printed by Piatnik and published as "Italian Cats" (nr. 2117) in 1996.

The deck was designed by Evélyne Nicod and consists of 52 cards and 3 jokers.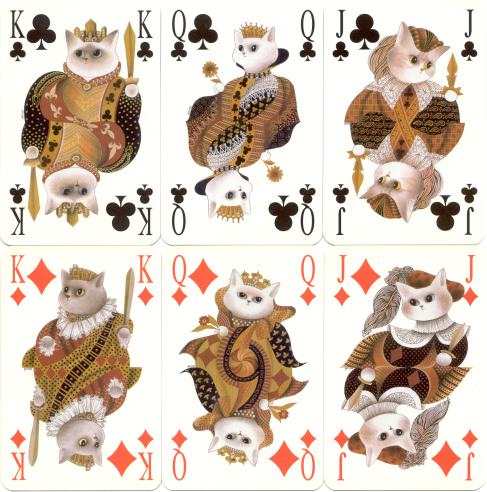 -0-
-1- -2- -3- -4- -5- -6- -7- -8- -9- -10-
-11- -12- -13- -14- -15- -16- -17- -18- -19- -20-
-21- -22- -23- -24- -25- -26- -27- -28- -29- -30-
-31- -32- -33- -34- -35- -36- -37- -38- -39- -40-
-41- -42- -43- -44- -45- -46- -47- -48- -49- -50-
-51- -52- -53- -54- -55- -56- -57- -58- -59- -60-
-61- -62- -63- -64- -65- -66- -67- -68- -69- -70-
-71- -72- -73- -74- -75- -76- -77- -78- -79- -80-
XPOHOME