- THE INTERNATIONAL PATTERN & ITS ANOMALIES -
-43-
This deck was printed and published in Italy. Although it's done in black/white, the center design shows a similar complexity. The attributes are there, just like the suicide King and the one-eyed Jack (here on Clubs). The heads and hands of the courts have been replaced by cats and their paws. All Aces have been specially designed and show cats in or around the suitcolour.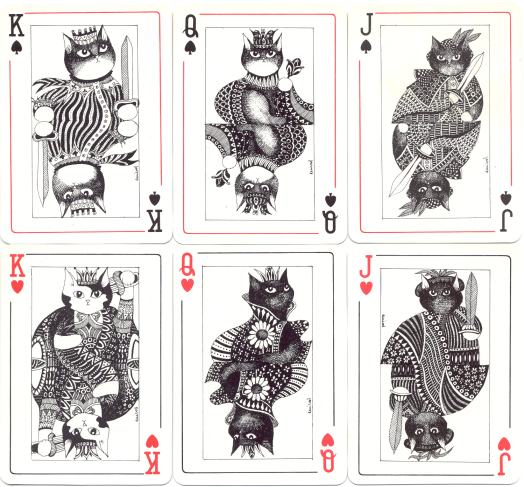 The deck was printed in Italy and published by La Milano in 1988 as "Gioco e Arte n. 14" in the "I Maestri dell'Arte" series. The deck was designed by E. Nicod.

It consists of 52 cards, 2 jokers and an extra card.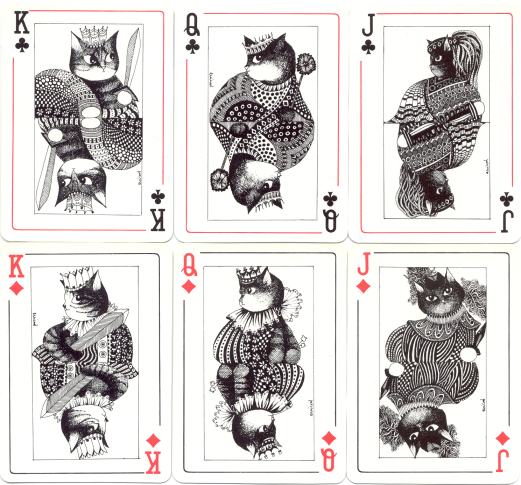 -0-
-1- -2- -3- -4- -5- -6- -7- -8- -9- -10-
-11- -12- -13- -14- -15- -16- -17- -18- -19- -20-
-21- -22- -23- -24- -25- -26- -27- -28- -29- -30-
-31- -32- -33- -34- -35- -36- -37- -38- -39- -40-
-41- -42- -43- -44- -45- -46- -47- -48- -49- -50-
-51- -52- -53- -54- -55- -56- -57- -58- -59- -60-
-61- -62- -63- -64- -65- -66- -67- -68- -69- -70-
-71- -72- -73- -74- -75- -76- -77- -78- -79- -80-
XPOHOME