- THE INTERNATIONAL PATTERN & ITS ANOMALIES -
-3-
The design of the center part in the international pattern is the main characteristic. The pattern of lines and colors makes it stand out recognizable among the other standard patterns. Usually the suitcolour is present in the design. Some designers of modified decks stick to this principle, but others use the center part design for other purposes too. The same goes for the attributes of the courts. Sometimes they are missing completely, like in the deck below.
A promotional deck for Kenny Rodgers, Reba McEntire and Rick Rossovich in "The Gambler returns". Probably made ca. 1990 by Gemaco. The courts have a repeated series of the 3 faces, the figures are oddly off-centered.
Sometimes these attributes are modified too and ad information about the depicted person, like in the deck here below.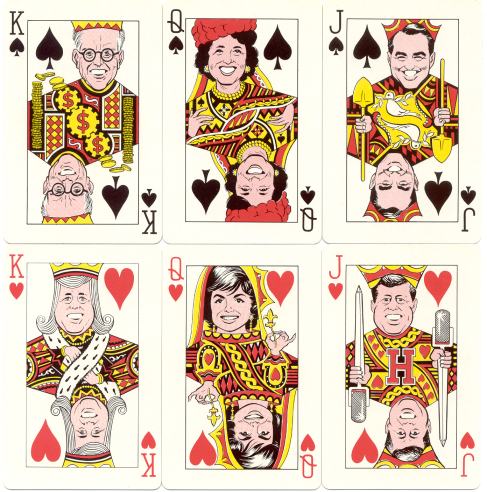 A "classic" is the Kennedy deck, published as "Kennedy Kards" in 1963 by Humor House Inc. Printed by the Arco Playing Card Company from Chicago.
The courts show members of the Kennedy family and JFK's administration.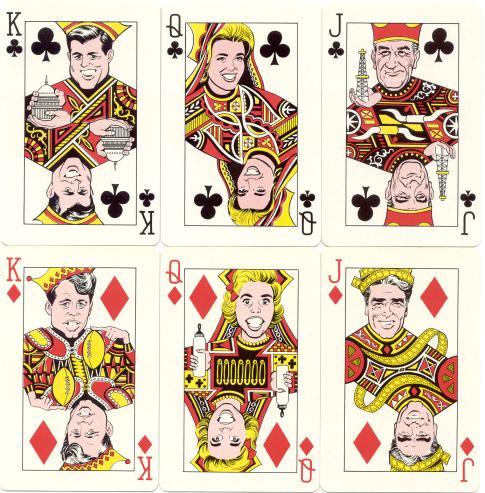 -0-
-1- -2- -3- -4- -5- -6- -7- -8- -9- -10-
-11- -12- -13- -14- -15- -16- -17- -18- -19- -20-
-21- -22- -23- -24- -25- -26- -27- -28- -29- -30-
-31- -32- -33- -34- -35- -36- -37- -38- -39- -40-
-41- -42- -43- -44- -45- -46- -47- -48- -49- -50-
-51- -52- -53- -54- -55- -56- -57- -58- -59- -60-
-61- -62- -63- -64- -65- -66- -67- -68- -69- -70-
-71- -72- -73- -74- -75- -76- -77- -78- -79- -80-
XPOHOME