- THE INTERNATIONAL PATTERN & ITS ANOMALIES -
-8-
One last example with animals comes from a casino deck. This deck has a repeated series of 3 designs on the courts: K's are lions, Q's giraffes and J's zebra's. Also the center design and attributes are the same in each suit.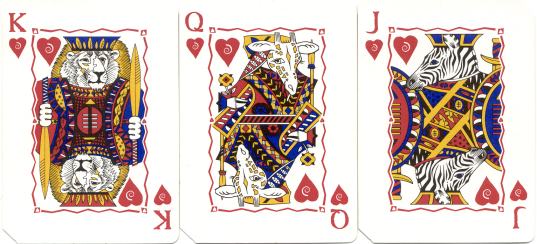 | | |
| --- | --- |
| The deck was printed by Gemaco and published by the Reserve Casino in the 1990's. | |
The international pattern has also been used by artists to promote comics, cartoons or their artwork.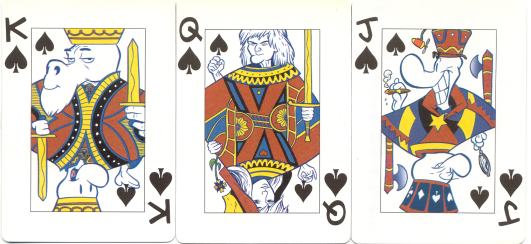 The "Bone Cards" deck was published by Graphitti Designs from Anaheim (USA) in 1996. The deck has a repeating series of 12 designs on courts and number cards. Only the Aces are different, 2 jokers.
Artwork by Jeff Smith.
-0-
-1- -2- -3- -4- -5- -6- -7- -8- -9- -10-
-11- -12- -13- -14- -15- -16- -17- -18- -19- -20-
-21- -22- -23- -24- -25- -26- -27- -28- -29- -30-
-31- -32- -33- -34- -35- -36- -37- -38- -39- -40-
-41- -42- -43- -44- -45- -46- -47- -48- -49- -50-
-51- -52- -53- -54- -55- -56- -57- -58- -59- -60-
-61- -62- -63- -64- -65- -66- -67- -68- -69- -70-
-71- -72- -73- -74- -75- -76- -77- -78- -79- -80-
XPOHOME