- THE INTERNATIONAL PATTERN & ITS ANOMALIES -
-39-
In the following deck the center design has been changed and the garments probably show traditional Ethiopian designs. The attributes have been replaced by Ethiopian equivalents, although all Queens still hold their flowers. The suicide king is in the Hearts suit, but none of the Jacks is one-eyed. The Ace of Spades is embellished, the other ones are plain.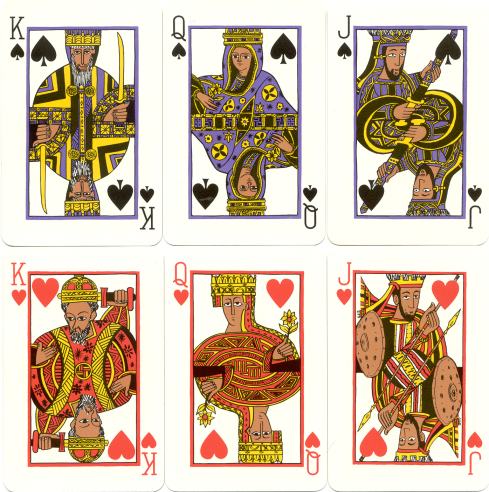 The deck was printed by De La Rue in 1969 and published by the E.T.T.C, the Ethiopian Tourist and Travel Commission.
The deck consists of 52 cards and 2 jokers.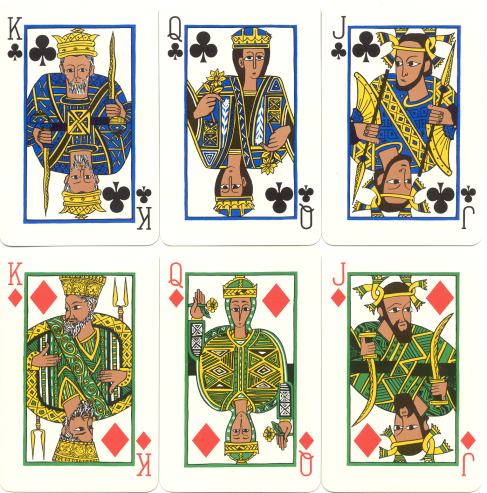 -0-
-1- -2- -3- -4- -5- -6- -7- -8- -9- -10-
-11- -12- -13- -14- -15- -16- -17- -18- -19- -20-
-21- -22- -23- -24- -25- -26- -27- -28- -29- -30-
-31- -32- -33- -34- -35- -36- -37- -38- -39- -40-
-41- -42- -43- -44- -45- -46- -47- -48- -49- -50-
-51- -52- -53- -54- -55- -56- -57- -58- -59- -60-
-61- -62- -63- -64- -65- -66- -67- -68- -69- -70-
-71- -72- -73- -74- -75- -76- -77- -78- -79- -80-
XPOHOME