- THE INTERNATIONAL PATTERN & ITS ANOMALIES -
-55-
The last Dutch deck, that -after some discussion- qualified for this xpo, shows designs that seem to have been done in watercolor. Although all the Queens have their flower, only the King of Spades has a sword. There's no suicide King or any other attribute with the other Kings. Again it's the abstract colorful complexity of the center design that makes the resemblance. The Aces, including that of Spades, are all plain.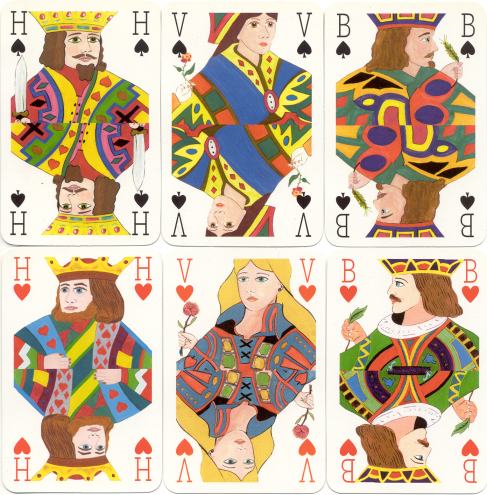 The deck was printed in 1998 by Spandruk from Borne and published by "Platform Zuidvleugel Randstad" in an edition of 1000 copies.
There are 52 cards, 4 jokers and 2 extra cards.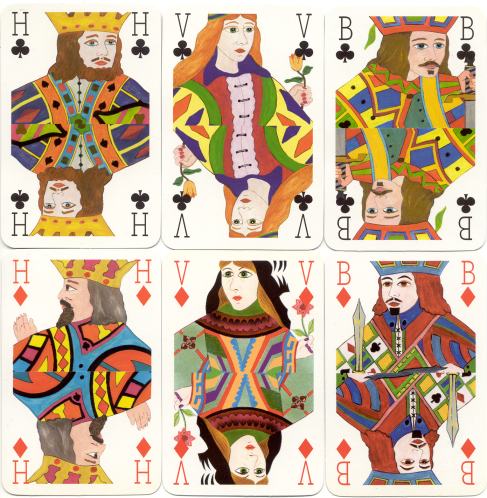 -0-
-1- -2- -3- -4- -5- -6- -7- -8- -9- -10-
-11- -12- -13- -14- -15- -16- -17- -18- -19- -20-
-21- -22- -23- -24- -25- -26- -27- -28- -29- -30-
-31- -32- -33- -34- -35- -36- -37- -38- -39- -40-
-41- -42- -43- -44- -45- -46- -47- -48- -49- -50-
-51- -52- -53- -54- -55- -56- -57- -58- -59- -60-
-61- -62- -63- -64- -65- -66- -67- -68- -69- -70-
-71- -72- -73- -74- -75- -76- -77- -78- -79- -80-
XPOHOME