- THE INTERNATIONAL PATTERN & ITS ANOMALIES -
-66-
In this deck the heads of the courts have been replaced by characters from a comical magician's cartoon, called Doraemon. The Kings and Jacks have cat features. There's a one-eyed Jack of Spades, but the suicide King apparently refuses to take his life.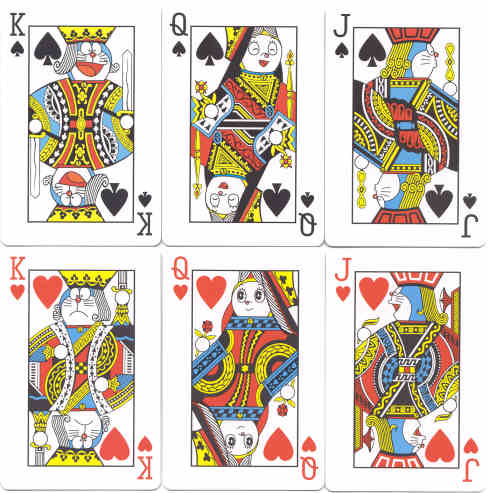 The deck was printed in Taiwan in 2005/06 and published as "Doraemon Trump".

The Ace of Spades shows the leading character, but all there are 3 extra aces that are half a court card too, so the deck can be used for magic tricks too.

The deck consists of 52 cards, 2 jokers, 3 extra aces and 3 extra cards.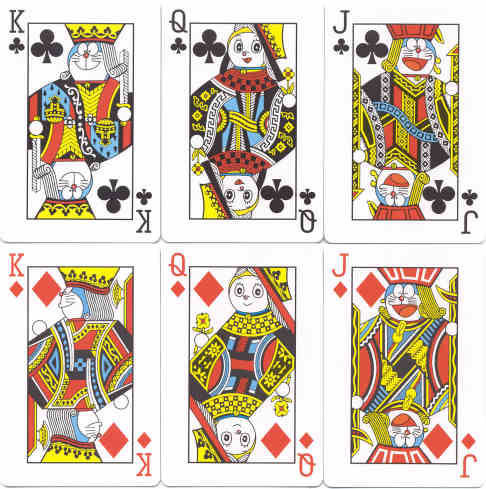 -0-
-1- -2- -3- -4- -5- -6- -7- -8- -9- -10-
-11- -12- -13- -14- -15- -16- -17- -18- -19- -20-
-21- -22- -23- -24- -25- -26- -27- -28- -29- -30-
-31- -32- -33- -34- -35- -36- -37- -38- -39- -40-
-41- -42- -43- -44- -45- -46- -47- -48- -49- -50-
-51- -52- -53- -54- -55- -56- -57- -58- -59- -60-
-61- -62- -63- -64- -65- -66- -67- -68- -69- -70-
-71- -72- -73- -74- -75- -76- -77- -78- -79- -80-
XPOHOME