- THE INTERNATIONAL PATTERN & ITS ANOMALIES -
-33-
On the brink of the new Millennium (31/12/1999) Futurama's first episode was broadcasted on TV. The artist Matt Groenig was already known from his successful series "The Simpsons". The deck here below was released a few years later. The heads of the courts show characters from the Futurama cartoons. The attributes have been replaced, but there are still a suicide king and one-eyed jacks.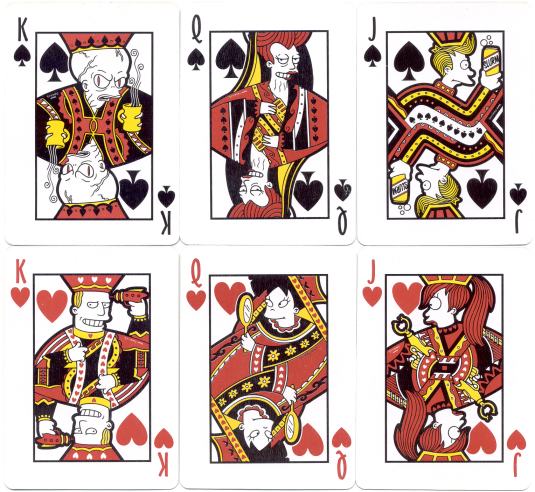 The deck was printed in China, but was published in the US in 2002. The designs are by Matt Groenig.

All aces have the same design.

The deck consists of 52 cards and 2 identical jokers. It comes as a double deck in a special designed tin.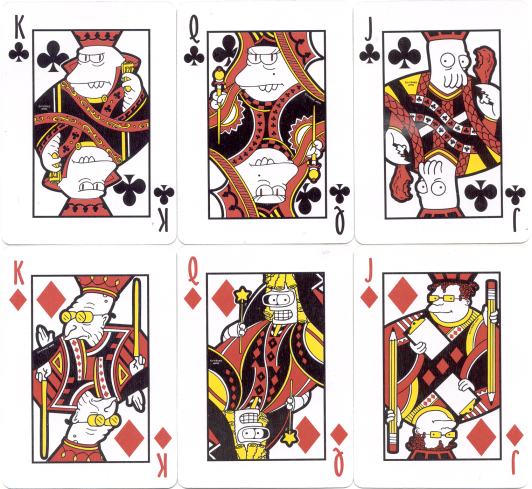 -0-
-1- -2- -3- -4- -5- -6- -7- -8- -9- -10-
-11- -12- -13- -14- -15- -16- -17- -18- -19- -20-
-21- -22- -23- -24- -25- -26- -27- -28- -29- -30-
-31- -32- -33- -34- -35- -36- -37- -38- -39- -40-
-41- -42- -43- -44- -45- -46- -47- -48- -49- -50-
-51- -52- -53- -54- -55- -56- -57- -58- -59- -60-
-61- -62- -63- -64- -65- -66- -67- -68- -69- -70-
-71- -72- -73- -74- -75- -76- -77- -78- -79- -80-
XPOHOME