- THE INTERNATIONAL PATTERN & ITS ANOMALIES -
-53-
In the Netherlands there's no major cardmaker left. Most of the advertising decks or other nonstandard issues are printed in Belgium by Carta Mundi, represented with a sales office in the Netherlands. Real "Dutch Made" decks are usually small editions, printed by small local printers. The international pattern is known and used in the Netherlands, but most people prefer cards with the so-called Dutch pattern (Carta Mundi) to play their games.
In the following deck the international pattern has adapted. The design of the Kings represents "education", that of the Queens "care" and that of the Jacks "reading". So the Queen may be depicted knitting and the Jack sorting the mail, while the King shows the ABC. The aces show scenes from different international cities.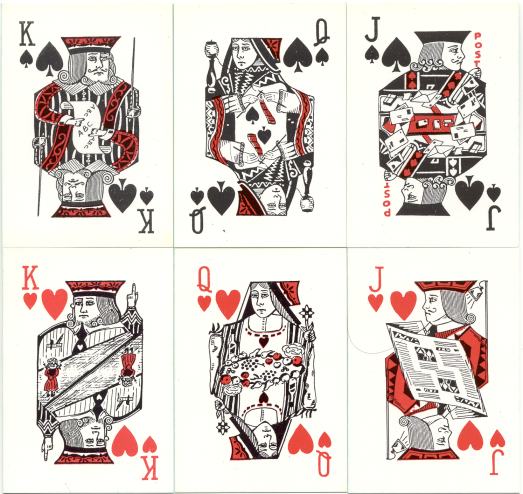 The "Familia" deck was designed by Piet Rijswijk from Leusden and probably printed in that area too. It was published in 1990 in a limited edition of 150 copies only.

The deck consists of 52 cards, 3 jokers and 1 extra card.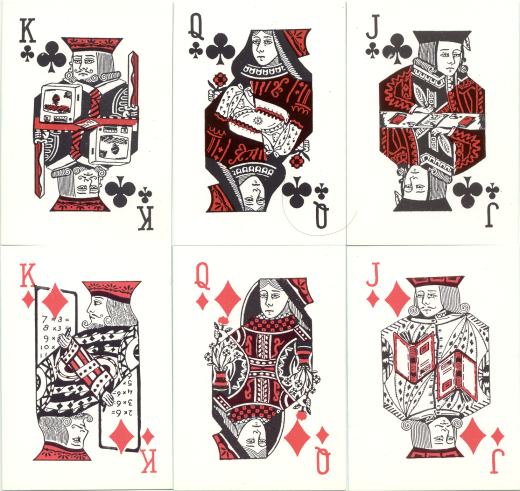 -0-
-1- -2- -3- -4- -5- -6- -7- -8- -9- -10-
-11- -12- -13- -14- -15- -16- -17- -18- -19- -20-
-21- -22- -23- -24- -25- -26- -27- -28- -29- -30-
-31- -32- -33- -34- -35- -36- -37- -38- -39- -40-
-41- -42- -43- -44- -45- -46- -47- -48- -49- -50-
-51- -52- -53- -54- -55- -56- -57- -58- -59- -60-
-61- -62- -63- -64- -65- -66- -67- -68- -69- -70-
-71- -72- -73- -74- -75- -76- -77- -78- -79- -80-
XPOHOME