- THE INTERNATIONAL PATTERN & ITS ANOMALIES -
-74-
There's a great variety of animals depicted in this deck, but all are native African. The attributes in this deck have all been exchanged for golf clubs and the animals all wear a typical golf cap too. Even the vulture on the Ace of Spades and the monkey on the Joker are busy with their tee-off. It's not a surprise that the deck was published as "Golf on the Wild side".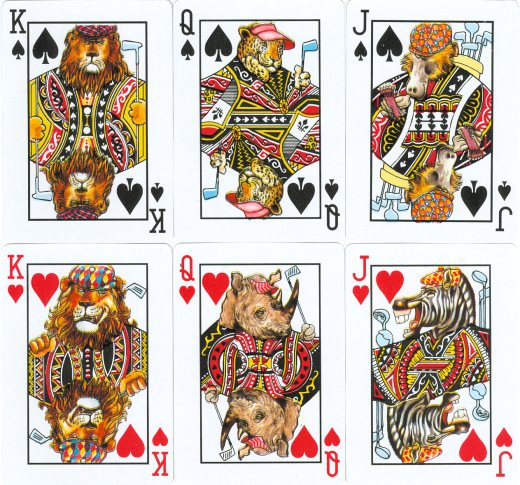 The deck was probably printed somewhere in the Far East, maybe Taiwan or China in 2007 or 2008 and published in South Africa as a souvenir deck.
There are 52 cards and 2 jokers.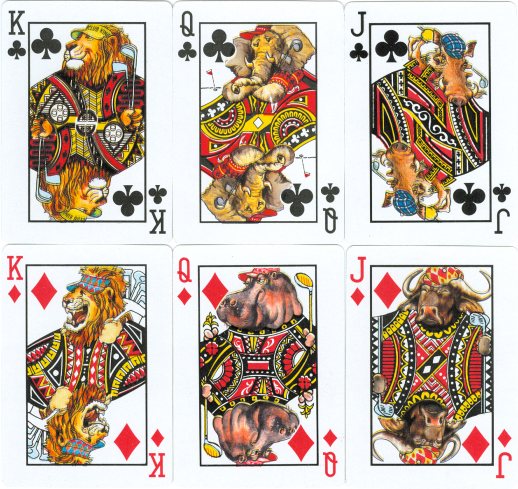 -0-
-1- -2- -3- -4- -5- -6- -7- -8- -9- -10-
-11- -12- -13- -14- -15- -16- -17- -18- -19- -20-
-21- -22- -23- -24- -25- -26- -27- -28- -29- -30-
-31- -32- -33- -34- -35- -36- -37- -38- -39- -40-
-41- -42- -43- -44- -45- -46- -47- -48- -49- -50-
-51- -52- -53- -54- -55- -56- -57- -58- -59- -60-
-61- -62- -63- -64- -65- -66- -67- -68- -69- -70-
-71- -72- -73- -74- -75- -76- -77- -78- -79- -80-
XPOHOME