- THE INTERNATIONAL PATTERN & ITS ANOMALIES -
-56-
In our collection the next showcase holder is labeled "Oost Europa", Eastern Europe, and it contains decks from different East European countries. This first one is from Poland.
The Enea deck shows a version that has a modern use of colors and where the regular attributes have been replaced by electrical appliances. Only the Jacks of Clubs and Diamonds do not have these. All Jacks however have colored hair and the hair was drawn in the familiar style. The King of Hearts hairstyle is drawn in a modern style, but the beard looks like the King's fingers have just been plugged out of that socket in the background.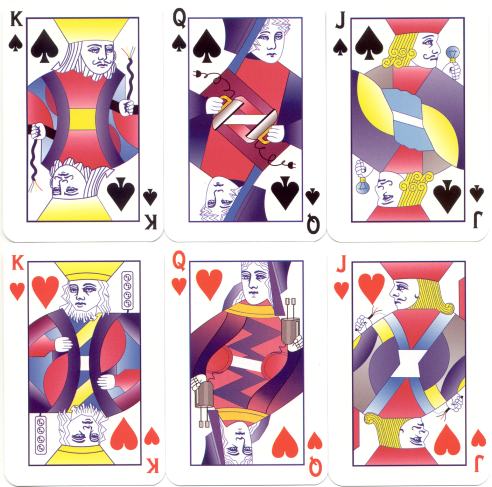 The deck was published by Enea in Poland in 2005.

The deck consists of 52 cards and 4 jokers, of which 3 are identical.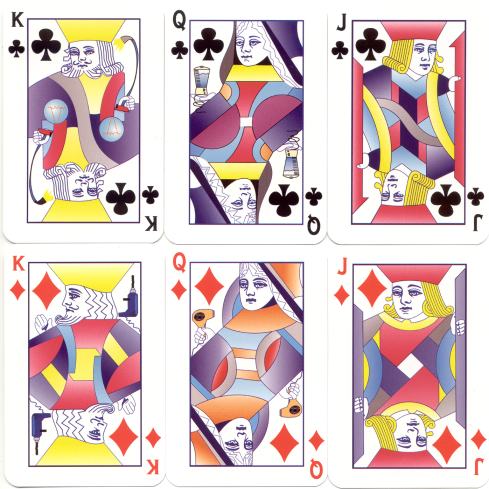 -0-
-1- -2- -3- -4- -5- -6- -7- -8- -9- -10-
-11- -12- -13- -14- -15- -16- -17- -18- -19- -20-
-21- -22- -23- -24- -25- -26- -27- -28- -29- -30-
-31- -32- -33- -34- -35- -36- -37- -38- -39- -40-
-41- -42- -43- -44- -45- -46- -47- -48- -49- -50-
-51- -52- -53- -54- -55- -56- -57- -58- -59- -60-
-61- -62- -63- -64- -65- -66- -67- -68- -69- -70-
-71- -72- -73- -74- -75- -76- -77- -78- -79- -80-
XPOHOME