- THE INTERNATIONAL PATTERN & ITS ANOMALIES -
-11-
When your rock&roll group is called the Grateful Dead and you want to add a special deck of cards to your new CD as a promotional gift, what better design to use than one that relates to death.
In this deck the courts have died and their heads have been replaced by skulls. The pattern is still recognizable as the international one. Although most of the attributes are missing, the suitcolours are repeated in the designs of each suit.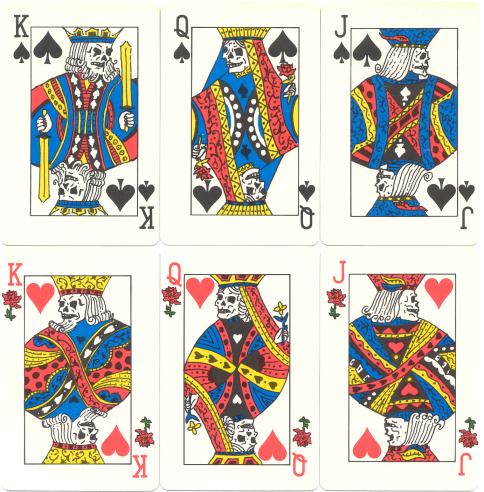 The deck was published Arista Records Inc. in 1989. The deck contains 52 cards and 2 jokers and comes with a CD by the Grateful Dead in a large box.

The deck has 4 special designed Aces and custom made (identical) jokers too.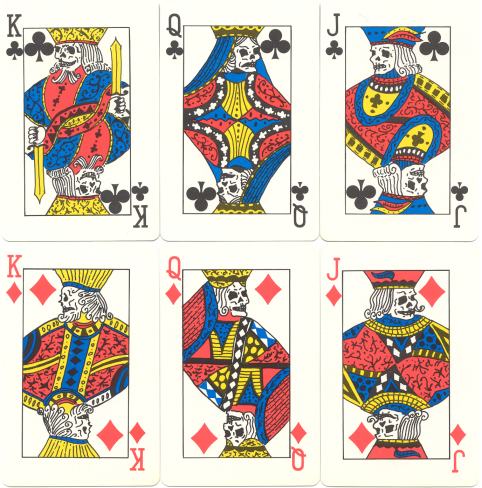 -0-
-1- -2- -3- -4- -5- -6- -7- -8- -9- -10-
-11- -12- -13- -14- -15- -16- -17- -18- -19- -20-
-21- -22- -23- -24- -25- -26- -27- -28- -29- -30-
-31- -32- -33- -34- -35- -36- -37- -38- -39- -40-
-41- -42- -43- -44- -45- -46- -47- -48- -49- -50-
-51- -52- -53- -54- -55- -56- -57- -58- -59- -60-
-61- -62- -63- -64- -65- -66- -67- -68- -69- -70-
-71- -72- -73- -74- -75- -76- -77- -78- -79- -80-
XPOHOME