- THE INTERNATIONAL PATTERN & ITS ANOMALIES -
-31-
Inspired by the single-figured ancestor of the present international pattern, the designer of this deck has modernized the design and colors and has inserted photo's of the main characters of the Muppet Show as faces on the courts.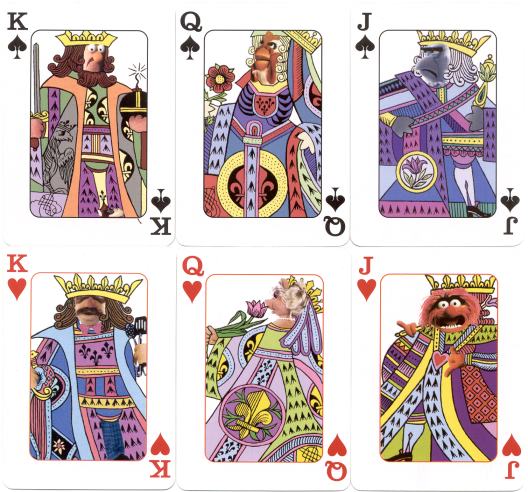 The deck was printed in China and published by Rix Products LLC in 2003 to celebrate the 25th anniversary of the Muppet Show.
The deck consists of 52 cards, 2 jokers and came as a double deck in a special tin.
Special Aces and jokers too.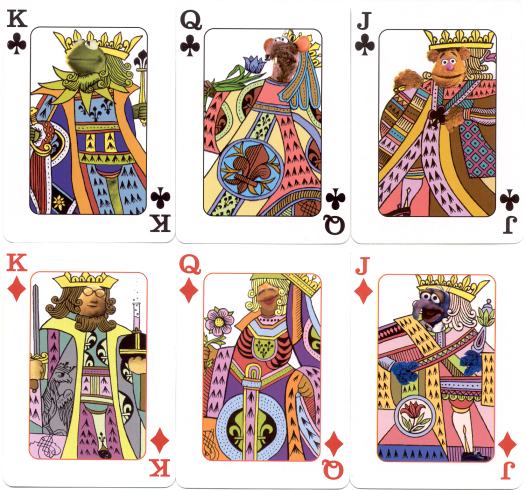 -0-
-1- -2- -3- -4- -5- -6- -7- -8- -9- -10-
-11- -12- -13- -14- -15- -16- -17- -18- -19- -20-
-21- -22- -23- -24- -25- -26- -27- -28- -29- -30-
-31- -32- -33- -34- -35- -36- -37- -38- -39- -40-
-41- -42- -43- -44- -45- -46- -47- -48- -49- -50-
-51- -52- -53- -54- -55- -56- -57- -58- -59- -60-
-61- -62- -63- -64- -65- -66- -67- -68- -69- -70-
-71- -72- -73- -74- -75- -76- -77- -78- -79- -80-
XPOHOME