- THE INTERNATIONAL PATTERN & ITS ANOMALIES -
-26-
For a deck that looks so much like the international pattern it is strange that the suicide king is that of Diamonds here. But a closer look will show more anomalies: all the kings are seated on a horse, the queens have a pet cat or dog and the Jacks' attributes are unusual too. Still the overall design gives an immediate recognition of an international pattern.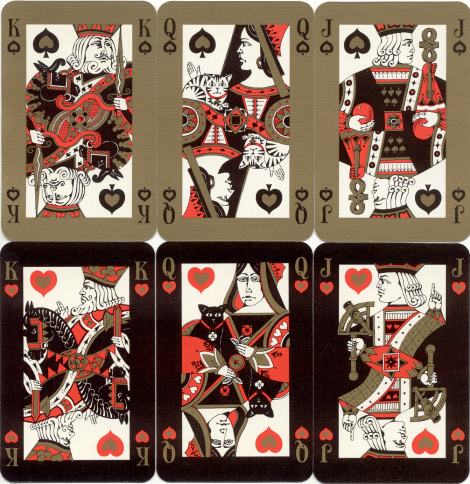 The "JPS" deck was printed in Belgium and published in England by John Player Special as a double deck in the mid 1990's. One deck is gold colored, the other is black. Each deck consists of 52 cards, 2 jokers and an extra card.
The deck was designed by Nick Price.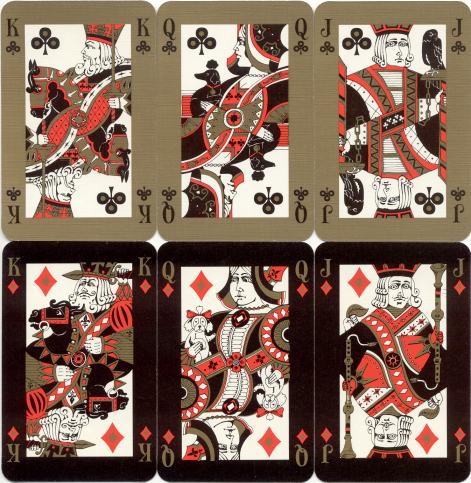 -0-
-1- -2- -3- -4- -5- -6- -7- -8- -9- -10-
-11- -12- -13- -14- -15- -16- -17- -18- -19- -20-
-21- -22- -23- -24- -25- -26- -27- -28- -29- -30-
-31- -32- -33- -34- -35- -36- -37- -38- -39- -40-
-41- -42- -43- -44- -45- -46- -47- -48- -49- -50-
-51- -52- -53- -54- -55- -56- -57- -58- -59- -60-
-61- -62- -63- -64- -65- -66- -67- -68- -69- -70-
-71- -72- -73- -74- -75- -76- -77- -78- -79- -80-
XPOHOME