- THE INTERNATIONAL PATTERN & ITS ANOMALIES -
-57-
This deck is from Czechoslovakia. It advertises Jan Becher liquors and on 9 of the courts there's a J.B. name or product incorporated in the design. His full name is printed twice on each court too and also on the aces and jokers. I'm sure the designer didn't want us to miss it!
Here it's the center design and the uncolored faces of the courts that remind us at first glance of the international pattern.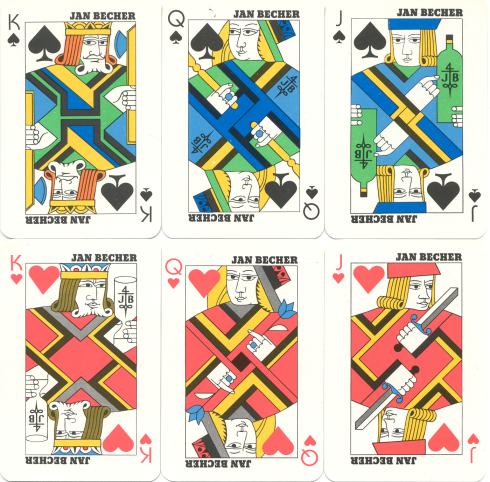 The deck was printed by Casino from Prague in 1987 and published for Jan Becher Liquors.

The deck consists of 52 cards and 2 jokers.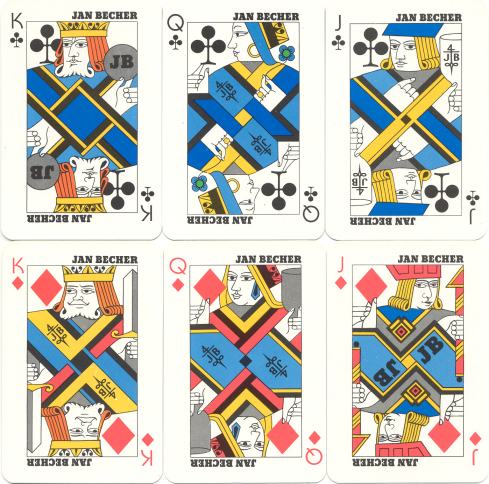 -0-
-1- -2- -3- -4- -5- -6- -7- -8- -9- -10-
-11- -12- -13- -14- -15- -16- -17- -18- -19- -20-
-21- -22- -23- -24- -25- -26- -27- -28- -29- -30-
-31- -32- -33- -34- -35- -36- -37- -38- -39- -40-
-41- -42- -43- -44- -45- -46- -47- -48- -49- -50-
-51- -52- -53- -54- -55- -56- -57- -58- -59- -60-
-61- -62- -63- -64- -65- -66- -67- -68- -69- -70-
-71- -72- -73- -74- -75- -76- -77- -78- -79- -80-
XPOHOME