- THE INTERNATIONAL PATTERN & ITS ANOMALIES -
-52-
In the following deck there only 2 images from the international pattern are used. Their basic design is repeated in each suit, but with different basic colors, that refer to the colors of the national soccer teams from Brazil, France, Argentina and (probably) England. The Jacks just show these colors with the number 11 in the middle. This number may refer to the fact that there are 11 players in a soccer team, but is appropriate for the Jack, because this is the eleventh card in each suit ranking too. All the Aces have that same design, but with the number 1. The numbercards are regular.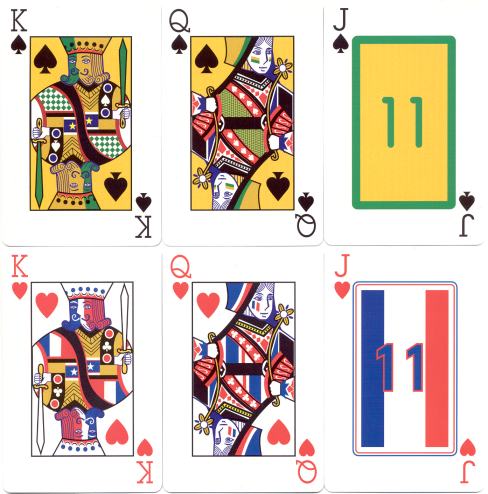 The "Fifa World Cup 2002" deck was printed by the Matsui Gaming Machine Co. from Japan and published for the tournament in Korea and Japan in 2002.
The deck consists of 52 cards, 2 jokers and a booklet.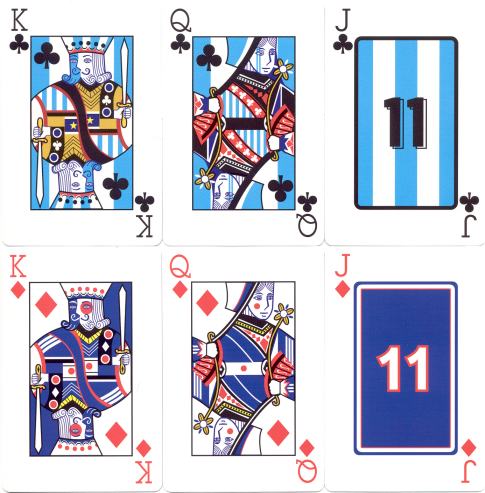 -0-
-1- -2- -3- -4- -5- -6- -7- -8- -9- -10-
-11- -12- -13- -14- -15- -16- -17- -18- -19- -20-
-21- -22- -23- -24- -25- -26- -27- -28- -29- -30-
-31- -32- -33- -34- -35- -36- -37- -38- -39- -40-
-41- -42- -43- -44- -45- -46- -47- -48- -49- -50-
-51- -52- -53- -54- -55- -56- -57- -58- -59- -60-
-61- -62- -63- -64- -65- -66- -67- -68- -69- -70-
-71- -72- -73- -74- -75- -76- -77- -78- -79- -80-
XPOHOME