| | |
| --- | --- |
| | SALVADOR DALI |
The following deck was published in the USA by the Dali Museum in St. Petersburg, Florida, in 1990. Each of the court cards shows a different painting by Dali. They come from different periods of his life.
The deck was published as a doubledeck with 2 different backdesigns. The shown deck has de "Halucinogenic Toreador" back.
| | |
| --- | --- |
| Salvador Dalí took over the Surrealist theory of automatism, but transformed it into a more positive method which he named `critical paranoia'. According to this theory one should cultivate genuine delusion as in clinical paranoia while remaining residually aware at the back of one's mind that the control of the reason and will has been deliberately suspended. His paintings employed a meticulous academic technique that was contradicted by the unreal `dream' space he depicted and by the strangely hallucinatory characters of his imagery. He described his pictures as `hand-painted dream photographs' and had certain favorite and recurring images, such as the human figure with half-open drawers protruding from it, burning giraffes, and watches bent and flowing as if made from melting wax. | |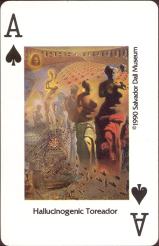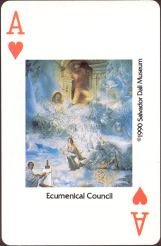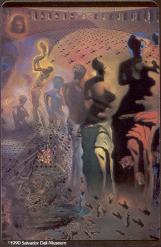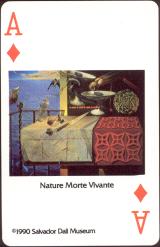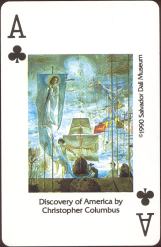 Of course we know Salvador Dali from his paintings and graphics. But he was more than just a painter or graphic artist.
He was one of the most notable exponents of the surrealist group. His flamboyant theatricality and ability to shock, coupled with his technical virtuosity, made him a controversial figure. Also politically and personally he has made some stunning swings: starting as a left-wing anarchist, he has ended his life as an orthodox Roman Catholic.
His energy and ingenuity have found many different outlets: he has designed jewelry, devised window displays, collaborated in stage and film productions and illustrated books, some illustrous ones like Lautréamonts famous "Les Chants de Maldoror". He has written two autobiographies, "The Secret Life of Salvador Dali" and "Diary of a Genius", and one novel "Hidden Faces". This novel was first published in 1944 in the USA and a second edition appeared in 1973.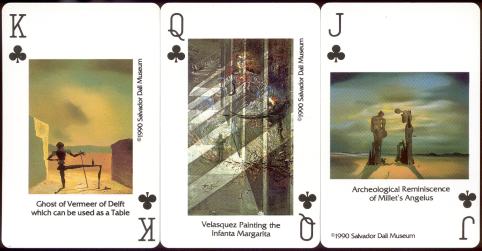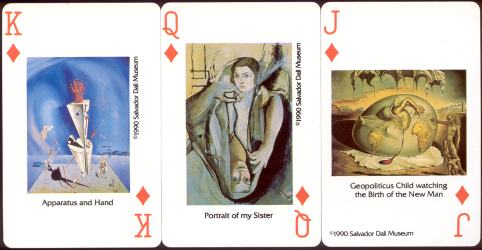 Dali has also been depicted in other decks. Here he is a a wide receiver on the 10 of Clubs from the Artball deck that was published in the US. A whole suit was dedicated to him in the "Ases de la Pintura" deck, that was published by Comas from Spain.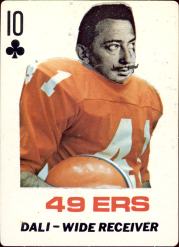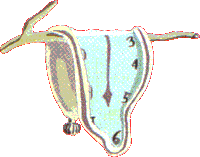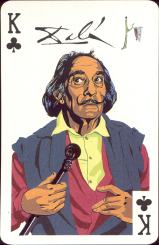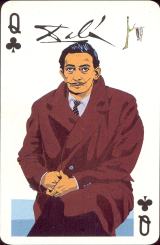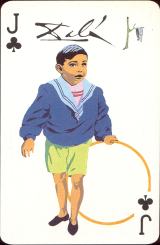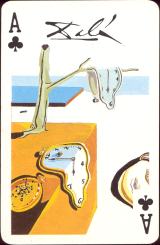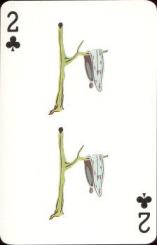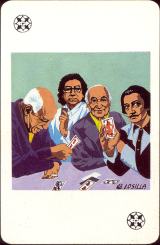 And browsing through our collection we found 5 cards with paintings by Dali in a deck that was printed by Carta Mundi from Turnhout, Belgium, and published by Y & B Associates Inc. in the USA as "Illusions in Art" in 1997.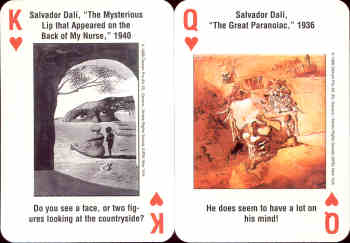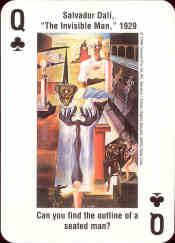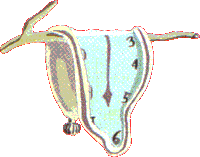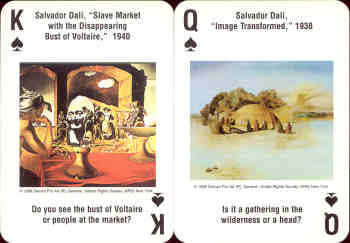 In 2012 the Spanish playing card collectors club Asescoin published a deck that was dedicated to Spanish painting: Homenaje a la Pintura Espanola. Each suit in this deck represents a Spanish painter: Pablo Picasso (cups), Francisco de Goya (clubs), Diego Velasquez (swords). In the suit of coins the coins were replaced by Dali's famous soft watches and the illustrations are based upon famous designs by Dali. The illustrator is the Spanish artist Santiago Bellido. Only 600 numbered decks were printed by the Maestros Naiperos Espanoles.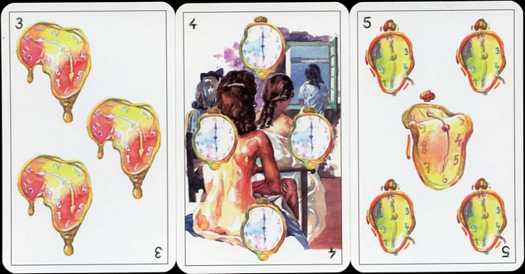 -1- -2- -3- -4- -5- -6-
ARTHOME or ARCHIVES