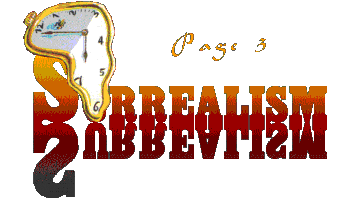 SALVADOR DALI
The "Tarot Universal Dali" shows 78 seperate designs by Dali, specially made for this deck. On this page we only show the 4 Knights and the 22 Major Arcana cards. All the other cards -the Minor Arcana- can be seen on page 4. There we show the poker deck that was derived from this Tarot deck. The first card of the Major Arcana (The Fool or -0-) is shown in real size (78 x 141 mm).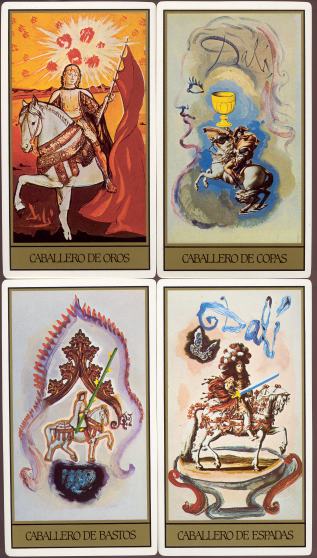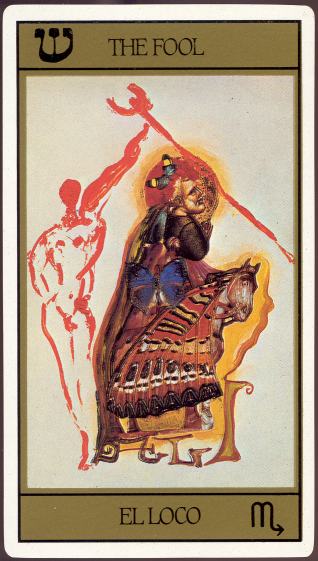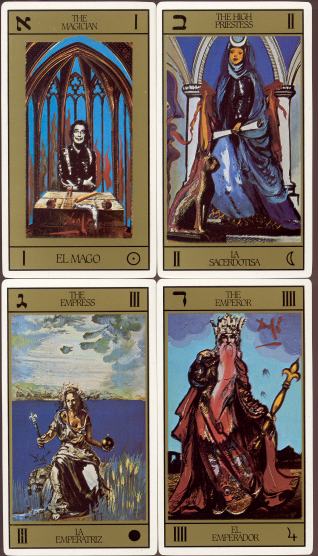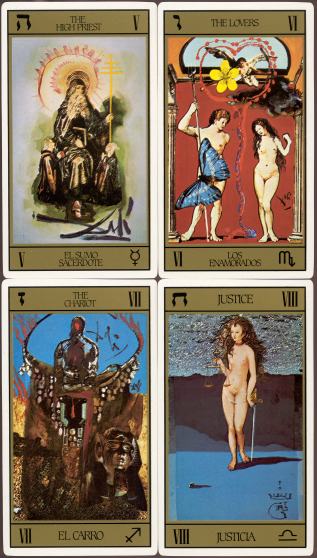 Above is a portrait of Gala as "The Empress". She is found in many of Dali's works, as any good muse should.
Gala was born in Russia as Elena Diakonov. She met Dali for the first time when she accompanied her husband, the French writer and poet Paul Eluard, to the exhibition by Dali in Cadaques of his painting "A Horrible Game" in 1929. It was to be his examination for the surrealist group. Paul Eluard gave his blessing to the painting and Dali's admission to the surrealists, but his wife would spend the rest of her life with Salvador Dali as his muse. They were married in 1932. She was his muse and helped to build his self-confidence or as Dali says: "she learned me how to dress, how to eat a chicken leg without throwing it to the cealing or how to recognize my enemies".
It will be hard to predict how Dali's work would have developed without her.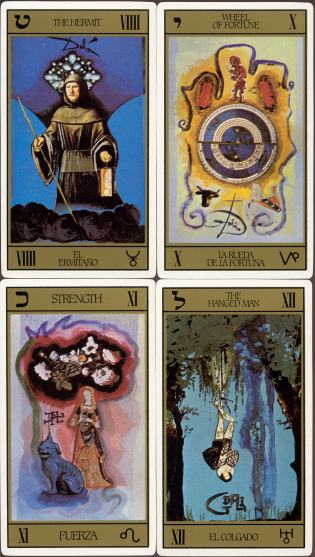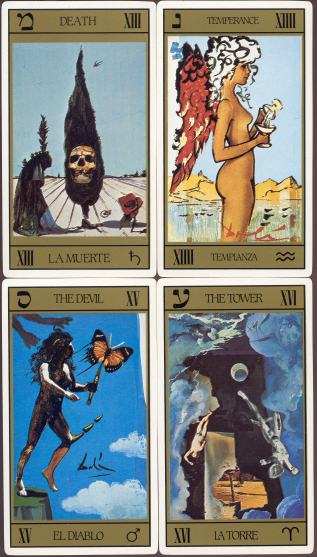 Although we do not collect Tarot decks, there are some in our collection. We bought this deck in the Dali Museum in Figueras. It comes in a two-piece box that is inside a red velvet cassette, with the title "Tarot Universal Dali" and his signature in gold print. The cards have gilded edges.

The deck was printed in the mid 1990's by Comas from Barcelona, Spain and published by the Distribucions d'art surrealista S.A. It comes with an explanatory booklet in Spanish, English, French and German. The deck consists of 78 cards and 2 extra cards.