3 early photographic Pinup decks
from St. Louis, MO.
-DECK 3-
-1-
This is the deck that we recently acquired through Ebay. We present the deck card by card and doing so, it will become clear why the deck seemed so familiar to us.
Each card shows a model against a white background. At the bottom there's a small caption in rhyme, a reference to the depicted girl. This "pattern" was new to us, but then we saw the backdesign...............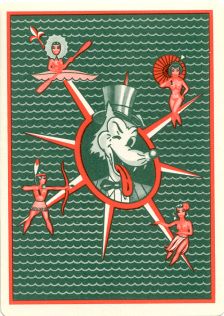 Same backdesign as deck 2.
And, as we said before, the joker seemed a bit familiar too. We had seen that characteristic feature of the wolf's head before! So we took out our Pinup showcase, started searching and we were lucky..............
deck 2
Now that we had found that we didn't qualify for Alzheimer yet, we decided to see if there were other cards, on which "adapted" photographs from the other decks had been used. And this is what we came up with..........
deck 1
deck 2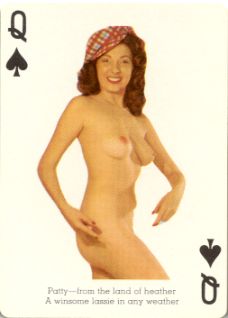 deck 2
Hmm, it's not a pretty good score: 5 cards of which 1 picture is actually new. Let's keep score after each next page!
All cards, from the Ace of Spades to the 2 of Diamonds, are shown on the following pages
---
to DECK
-1- or -2-
VARIATIONS
---