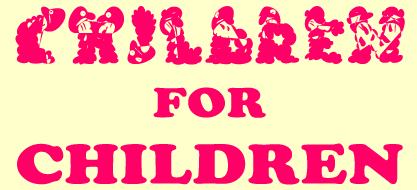 5a
VASS "Flower Children"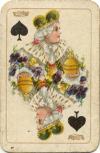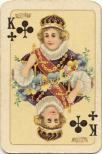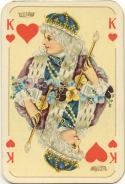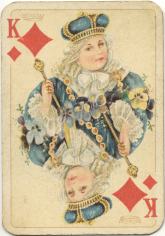 There are 4 versions of the deck in our collection. The designs of the courts on each of them are exactly the same, just the card dimensions differ. Above are 4 cards to indicate the difference in size. They are presented in our regular format on this site, which is at 70% of their true size. Here below we show the cards at 200%, unless otherwise indicated.
All the decks were printed in chromolithography. The courts have children's faces, but they are dressed like adults. Both the Kings and Queens wear a crown. The border between the two similar designs on each card is made of flowers. Hence our nickname for this deck: "Flower Children". The Aces are embellished with flowers too and also the back design has a floral motif.
In each of the decks the 7 of Hearts shows the company's logo or name. The oldest deck has the full name of the maker, all the other decks just show the logo of the letter "B" in a hexagonal star. This older notation of the makers name was in use from 1898 until 1918.
This series of Clubs comes from a slightly later version, probably ca. 1925, of the same deck. Here 2 indicators were used and on the courts a small suit symbol is added too. On the 7 of Hearts only the "B" logo is left. This "B" refers to the brothers Otto and Bernhard Bechstein, who were the first to manufacture playing cards in Altenburg in 1832.