PIN-UP'S & EROTICA
-60-
This deck was published by the Carew & Co Ltd. from India and it's very likely that it was printed there too, probably in the 1960's. The deck advertises the Sister Mary Brandy by Carew & Co Ltd. on the box and on the backs.
The faces are all illustrated with a pin-up, but you may recognize some of the used images, if you have been following this xpo over the years. It is a weird combination of drawn pin-up's and photographic ones. Some of the drawn pin-up's are easily recognized as being taken from the German 1955 "Darling" deck, illustrated by Klaus Villiger. On this page the King of Spades, the Aces of Clubs and Diamonds, the Queen and Jack of Clubs and the first Joker are nice examples. Other drawn pin-up's seem to come from Elvgren, Vargas or illustrators from those days. There are also a good number of photographic pin-up's, but their origin is unknown.
At first glance one would think that the cards are discoloured by age, but the deck is printed on a tanned, rather rigid, kind of card.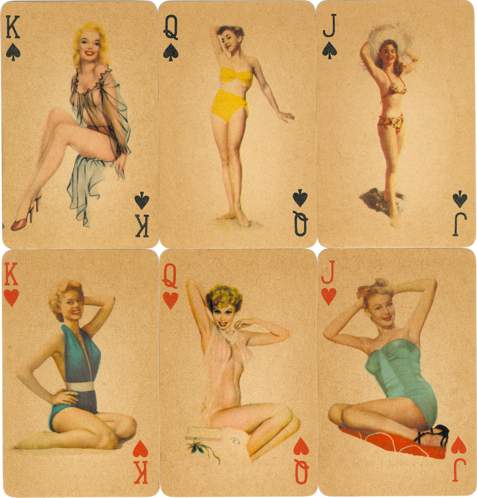 CLICK THE ACE TO SEE THE PIPS PER SUIT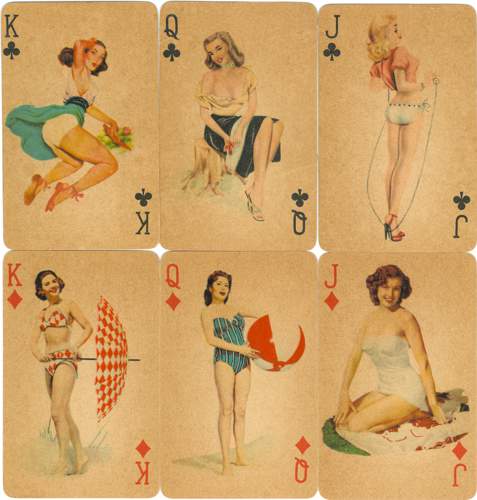 The deck consists of 52 cards and 2 jokers.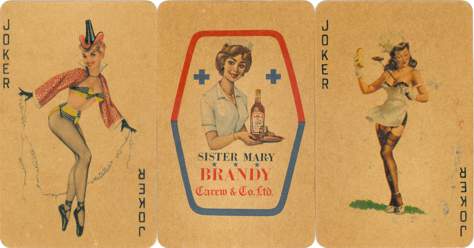 | | |
| --- | --- |
| | Our box lacks the top and bottom. The front and back have the same design as the back of the cards, advertising Sister Mary Brandy. The sides are similar and show the same brand name. |
According to an Indian seller of a similar deck on Ebay, the name of Phipson & Co. Ltd is mentioned on the flap of the box. This company was based in Madras and imported foreign liquors in the early 1960's. So this is probably the name of the publisher and it was done to promote the brandy which was made by Carew & Co. Ltd.
-0-
- 1- - 2- - 3- - 4- - 5- - 6- - 7- - 8- - 9- -10-
-11- -12- -13- -14- -15- -16- -17- -18- -19- -20-
-21- -22- -23- -24- -25- -26- -27- -28- -29- -30-
-31- -32- -33- -34- -35- -36- -37- -38- -39- -40-
-41- -42- -43- -44- -45- -46- -47- -48- -49- -50-
-51- -52- -53- -54- -55- -56- -57- -58- -59- -60-
-61- -62- -63- -64- -65- -66- -67- -68- -69- -70-
-71- -72- -73- -74- -75- -76- -77- -78- -79- -80-
-81- -82- -83- -84- -85- -86- -87- -88- -89- -90-
XPOHOME