PIN-UP'S & EROTICA
-6-
This deck was probably printed in China too, but published in the US as "Baron von Lind's Poker Playing Cards - Vol. One", probably in 2008. According to the box it's a limited edition, but there are no numbers mentioned anywhere, so that's hard to verify.
Each card shows a different pin-up in classic style. The designs are signed "Baron". However, we don't know this artist and therefore can't tell if this is original artwork from the 1950's. There are two cards that would suggest that these images are made on a later date: on the 2 of Diamonds and the 6 of Hearts there's a reference to James Bond. The movie "For your eyes only" was made in 1981.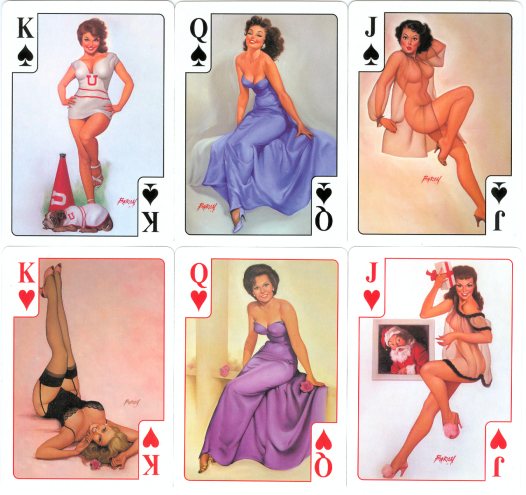 CLICK THE ACES TO SEE THE NUMBERCARDS PER SUIT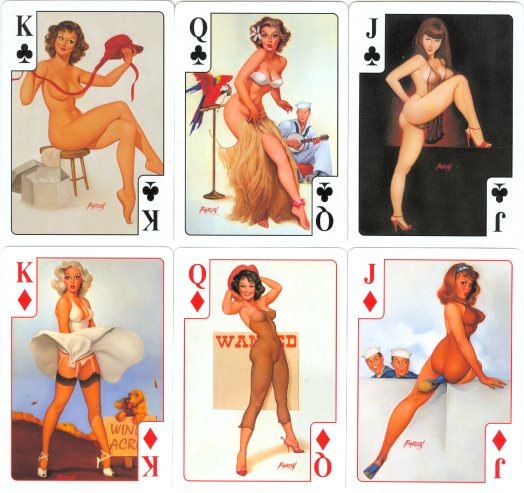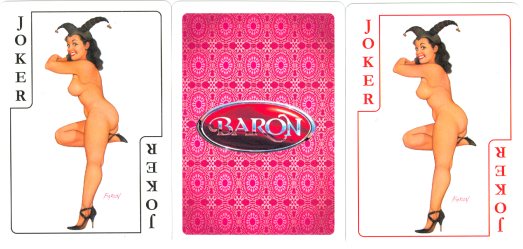 The deck consists of 52 cards and 2 jokers.
| | |
| --- | --- |
| | The box..... |
-0-
- 1- - 2- - 3- - 4- - 5- - 6- - 7- - 8- - 9- -10-
-11- -12- -13- -14- -15- -16- -17- -18- -19- -20-
-21- -22- -23- -24- -25- -26- -27- -28- -29- -30-
-31- -32- -33- -34- -35- -36- -37- -38- -39- -40-
-41- -42- -43- -44- -45- -46- -47- -48- -49- -50-
-51- -52- -53- -54- -55- -56- -57- -58- -59- -60-
-61- -62- -63- -64- -65- -66- -67- -68- -69- -70-
-71- -72- -73- -74- -75- -76- -77- -78- -79- -80-
-81- -82- -83- -84- -85- -86- -87- -88- -89- -90-
XPOHOME