PLAYING CARDS on ICELAND
"Njalu Refill"
This deck was published by Fjallasaum in 2014. The deck was printed in Poland (BROS?) and consists of 52 cards and 3 jokers. The deck was illustrated by Kristín Ragna Gunnarsdóttir. She has made all the designs for a 90 meters long tapestry on which Njal's Saga will be depicted. This saga was probably written in the 13th century. It's a story of brutal events, murder and retribution in the 10th and 11th century. Because of the many references to other classical works, the writer is considered to have been well educated and erudite and this saga is considered to be the most important one in the Icelandic cultural history.
In 2014 the work has started and the planning is that it will take 6 - 10 years of making. The sewing is done at the Icelandic Saga Center. The goal is to sew Njal's Saga in refillsaum (Bayeux stitch), a special type of stitch that was used in the Viking age. The deck was probably published to raise funds for this project.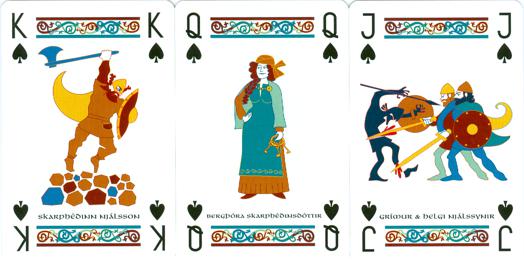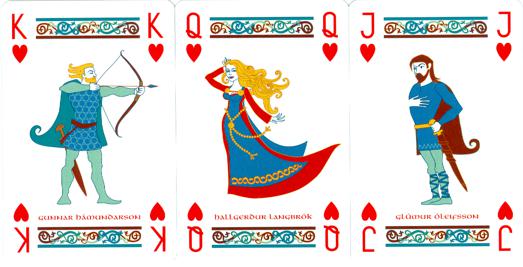 The courts, aces and jokers show the main characters from the Njal's Saga. All the pip cards have a different design too, but they show scenes of events from the saga. The names on the courts are in Icelandic only, but on the pips the depicted scene is described in Icelandic and English.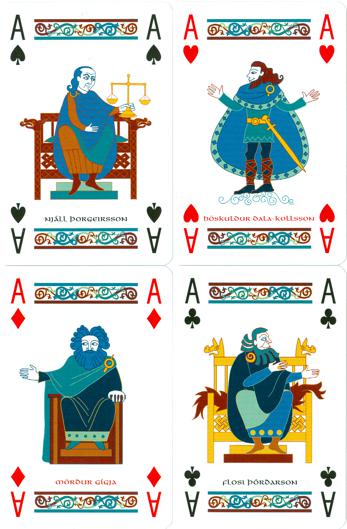 CLICK THE ACES TO SEE THE PIPS PER SUIT.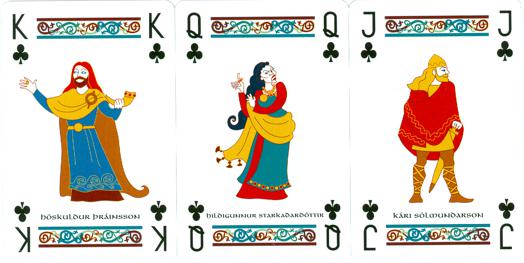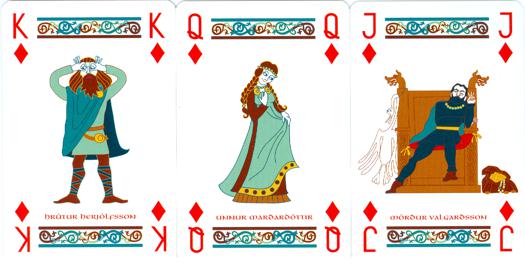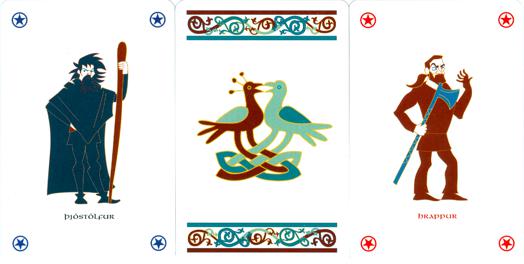 The box.....
| | | |
| --- | --- | --- |
| | | |