PLAYING CARDS on ICELAND
"Sjávarspilin"
(Sea Deck)
This deck was published in 2004 by the Icelandic lottery, for its 70th anniversary. The lottery supports the University of Iceland, Happdrćtti Háskóla Islands. The deck was not for sale, but given to customers of the lottery. Printer unknown.
The deck consists of 52 cards and 2 jokers. Each card is illustrated. The deck came to us in a plastic box and was accompanied by a booklet with all the illustrations and a short story about them and the makers. Unfortunately the texts are in Icelandic.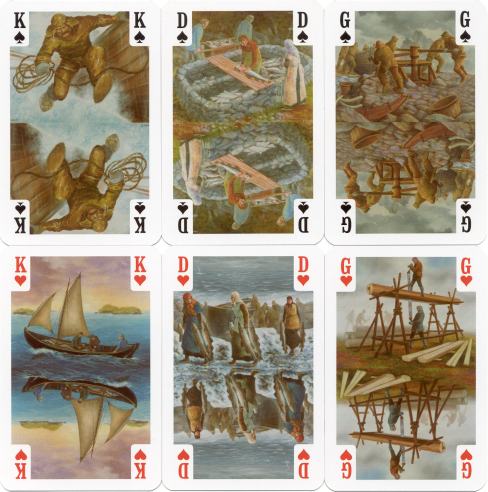 The deck was illustrated by Bjarni Jónsson. The artist was born in Reykjavik in 1934 and his work was inspired by the books of Lúđvík Kristjánsson, that tell the "Íslenskir sjávarhćttir", the developement of fishing in Iceland. Lúđvík Kristjánsson was born in Stykkishólmur in the year 1911. When he was a youngster he worked as a seaman on a row-boat and later on trawlers. In his twenties he began working as a teacher and literator. He was specially interested in the history and the ways of fishing in Iceland. He began collecting information about fishing in Iceland. He travelled around the country in 1942. The next fourty years he and his wife, Helga Proppé, wrote the "Íslenskir sjávarhćttir" books. There were 5 books and they were published between 1981 and 1986. Lúđvík Kristjánsson died in the year 2000.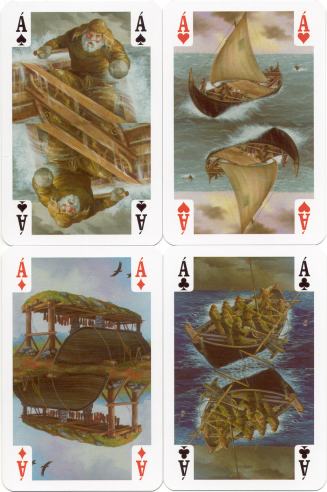 Click the aces to see all numbercards per suit.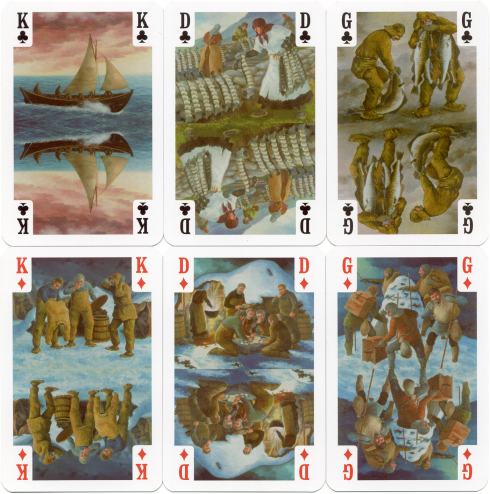 The deck comes with 2 jokers.