PLAYING CARDS on ICELAND
"Muggs Spilin"
The "Muggs-spilin", Mugg's Cards, is the first deck by an Icelandic artist ever to be published. It was designed by Gudmundur Thorsteinsson ("Muggur") in 1922 and printed in Altenburg in 1923. It was published on Iceland by Bjarni Þ. Magnússon from Reykjavik as "Icelandic Whist Cards No. 1" and "Icelandic L'Hombre Cards No. 1". The whist deck consists of 52 cards and a joker.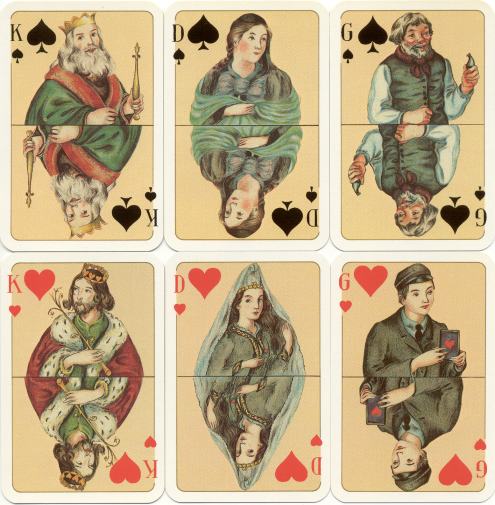 Gudmundur Thorsteinsson was born in Bildudalur in 1891 and went to Denmark in 1911 to study art at the Kunstakademi in Copenhagen. Afterwards he travelled: New York (1915), Norway (1916), Italy (1921) and France (1924).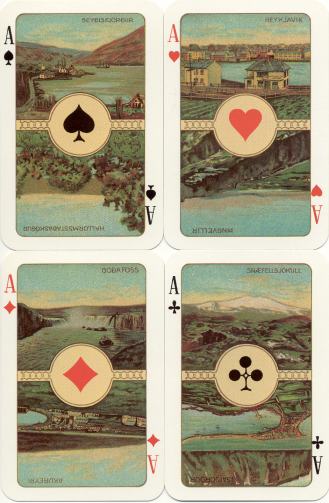 The Kings bear royal insignia and the Queens are dressed in old Icelandic fashions. The Jacks represent various occupations: a labourer, a fisherman, a peasant and a student. The Aces show coloured scenes of Icelandic towns and country.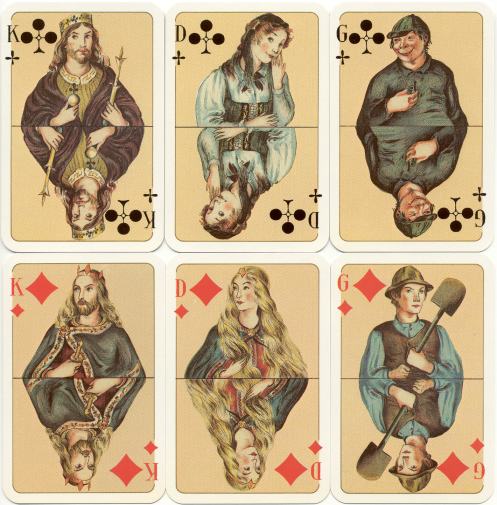 There's a smiling little devil on the joker and the back shows a picture of the Gullfoss (Golden Waterfall).