PLAYING CARDS on ICELAND
"Geysir Spil"
In 1943 Eggert Gu­mundsson designed a deck of cards for Haraldur Jˇhannessen, that was called "Geysir Spil" (Icelandic Geyser's Cards) after the scetch on the case (see below). They were published in Reykjavik that same year and there was a second edition in 1944 with three alterations: the design of the King of Clubs was changed considerably, a beard was added to the King of Diamonds and the (previously b/w) aces appeared in colour.
The deck shown here is from the second edition, with the cards from the first edition that have been changed. Just like the first edition the second one consists of 52 cards, 1 joker and 1 extra (bridge score) card. Printer unknown.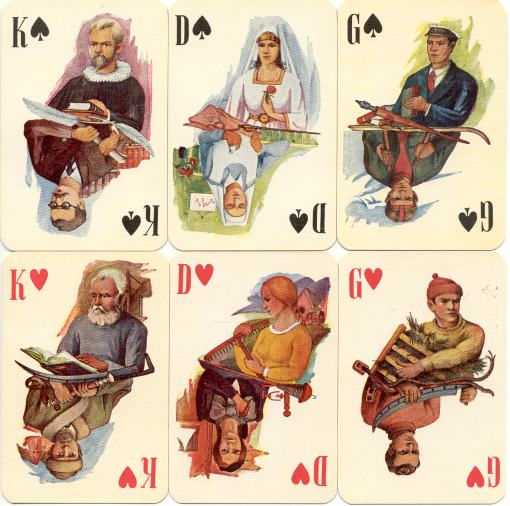 Both the court cards and the aces are double-figured, but with two different designs at each end. The courts depict figures from various classes of the Icelandic community and the aces show buildings and occupations.
| | |
| --- | --- |
| | |
| 1st edition | 2nd edition |
The scenes on the aces are the same, only on the Ace of Spades they have been interchanged.
The joker shows a clown astride a barrel and the backdesign a bridge and the northern light. In the first edition in blue or red-brown and in the second edition in green or red-brown. Both our decks have the red-brown bversion. This backdesign is also on the back of the box. The front of the box gives the name of the deck. The first box is from the first edition and for the second edition not only the design, but also the title was slightly altered.