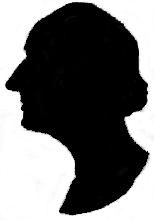 In 2005 Denmark commemorated the 200th anniversary of Hans Christian Andersen, the country's greatest storyteller, who's fairy tales have been translated in many languages and are known worldwide. It must have been a coincidence, but only a month ago the second HCA deck was added to our collection of Danish decks. So we decided to participate in the festivities by telling Andersen's own story and showing the two decks, that were published to commemorate his 150th anniversary.
Who was this 185 cm tall, thin man, with a shoe size 47 and dark grey-blue eyes, set deeply in his face, who's hands were often busy cutting figures and silhouettes from paper with a large pair of scissors, that he always kept within reach, but...... also the man, who's fairy tales still know how to touch many hearts, young and old, ever since they were first published in 1837.

Hans Christian Andersen was born on 2 April 1805 in Odense, on the isle of Funen. His mother was Anne Marie Andersdatter. His father, Hans Andersen, was a shoe maker, who died in 1816. Driven by poverty his mother had to take on a job, washing clothes for other people and the young Hans Christian, who wasn't attending any school at that moment, was send out to work.
In 1817 he was send to the charity school. About one year after his mother had re-married in 1818, a young and brave Andersen travels, as a stowaway, by wagon to Kopenhagen, with only a few pennies in his pocket and a letter of recommendation for Anne Margereth Schall, a ballet dancer at the Royal Theatre. His performance of a "grotesque ballet" (he danced in his stocking feet , used his hat as a tambourine and improvised melody and text of "The little Glass Slippers") fails to convince her and he's thrown out. Thanks to the director of the Royal Theatre singing school he gets private lessons in singing and meals. A year later this agreement ends and he changes to the Theatre's ballet school for dancing lessons. Later he gets private lessons in acting too, but also the advise to give up the dream of becoming an actor. He starts writing.
A first tragedy "The Forest Chapel" was shelved, just like his other two attempts to write a tragedy for the theatre. In 1822 his first book "Attempts from Youth" was published, but this wasn't a success either. Although not yet successful, his writing opened the doors to the prestigious "Latin school" (equivalent of a grammar school today) in Slagelse and he's taken in by Simon Meisling, the principal of the school, and his family. In 1826 he moves with them to the Latin School in Elsinore. Although he's not very successful at school, he gets acquainted with several writers, like Ingemann, who's contacts will help him in his future success.