July 2021
This month there was only one deck, so it was an easy choice. Of course the courts are nonstandard, but it was the back design that tipped the scale to buy it.

And there are two other features which make the deck attractive. It's a 4-color deck, in which each suit has a different color. And... embellished aces and pips.
The deck was printed and published in 1977 by SIACA from Cento, Italy. However, from the site of Toni di Rossi I learned of a publication by SIACA in 1980, in which there were 5 different double decks in a box. One of those decks was this one by the artist Erminia Mascoli. All these decks were accompanied by an extra card with only the signature of the artist on it, like in this deck. Some of the other decks are in the collection too, but not with this type of extra card. One of them is shown elsewhere on this site. As the deck here came in a non-original plastic box, I suspect that this deck once belonged to the publication of 1980.
Each suit has a different colour. The spades are purple, the hearts red (of course), the clubs blue and the diamonds a sort of golden brown. These colours are also used in the back design.

The aces all have embellished pips. Artist's signature on the AS and company logo on the AH.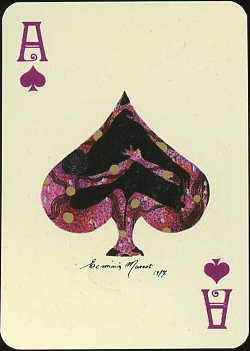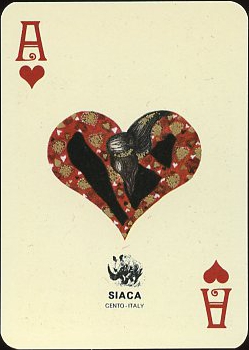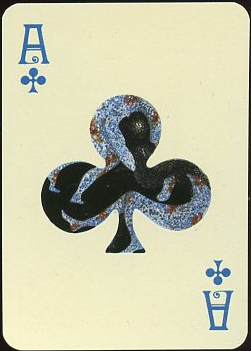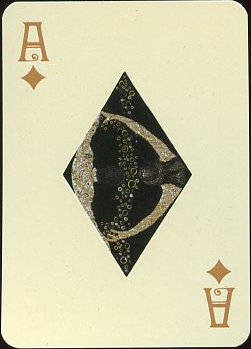 The deck consists of 52 cards, 2 jokers and an extra card with the artist's signature.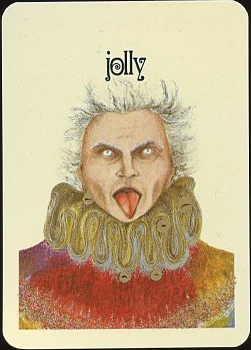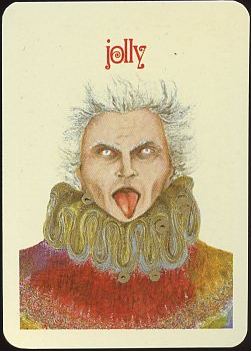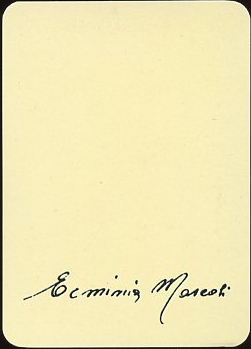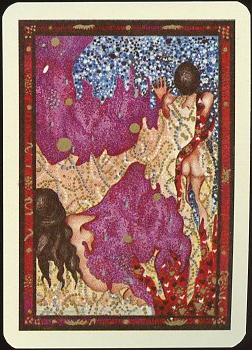 Pip cards with embellished pips.