December 2008
We didn't have much time for card hunting this month and that often results in an easy choice. But even with a limited number this month we had to think twice. There were a lovely vintage French advertising deck for Marie Brizard liquors and an evenly vintage, cute, rare Piatnik patience deck as tuff competition. Both decks had great jokers too, so that made it a difficult choice for the Joker of the Month too. This aspect and the fact that the pattern of the Piatnik patience deck is already shown elsewhere on this site affected our choice, but we're happy to share the following deck with you as Deck of the Month.
The deck was printed by Brown & Bigelow and published by the Brown Derby Hollywood Restaurant in Los Angeles in 1950. The proceeds from the sales of the deck went to the City of Hope National Medical Center. The deck consists of 52 cards and 2 jokers. It's a non-standard deck, that has pictures on the Kings and Aces, while all the other cards -except for the jokers- show caricatures of the Hollywood stars that frequented the Hollywood Brown Derby restaurant.
The BROWN DERBY restaurants in Los Angeles: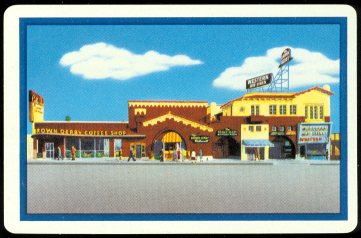 A "brown derby" is a bowler hat and the first Brown Derby, also known as the "Little Hat", was opened as a coffee shop/restaurant in February 1926 on Wilshire Boulevard. This was the only Derby that was actually built in the shape of a hat. In 1937, it was moved one block up the street. The restaurant became so popular with L.A.'s movie colony, that another Brown Derby was opened on Valentine's Day 1929: The Hollywood Brown Derby at 1628 Vine Street, near the corner of Hollywood and Vine. The back-design shows an artist impression of the Brown Derby Hollywood restaurant. Other Brown Derby restaurants were later built in Beverly Hills and in East Hollywood (also known as Los Feliz) at Los Feliz Boulevard and Hillhurst.
The Brown Derby on Vine Street was the home of hundreds of caricatures of celebrities. Many of these caricatures were drawn by Mr. Jack Lane between 1947 and 1985. Lane has written a book, A Gallery of Stars: The Story of the Hollywood Brown Derby Wall of Fame, describing his years as the resident caricaturist there. Although other artists have contributed too, no doubt there will be a good number of Lane's pictured on the cards in the deck.
The pictures on the Kings all show facilities of the City of Hope Medical Center.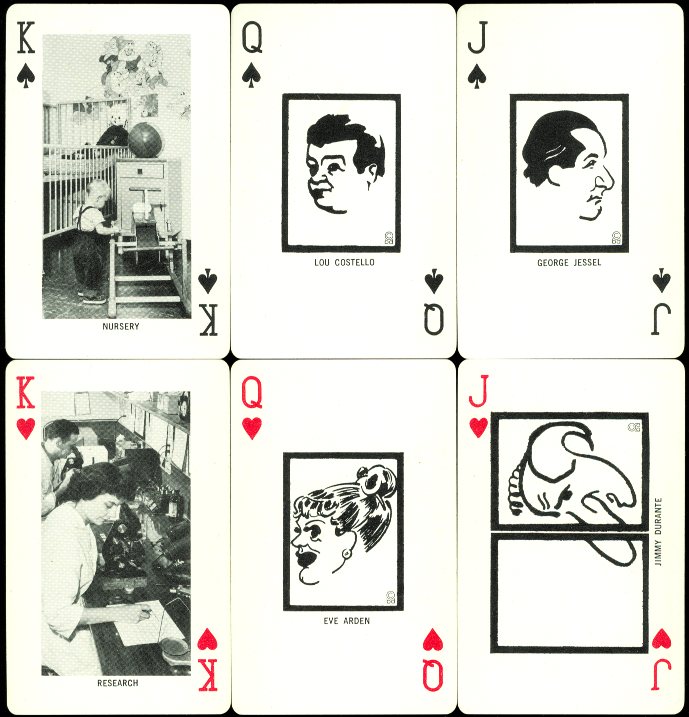 The Aces show the 4 Brown Derby restaurants of Los Angeles. Click the Aces to see the numbercards per suit.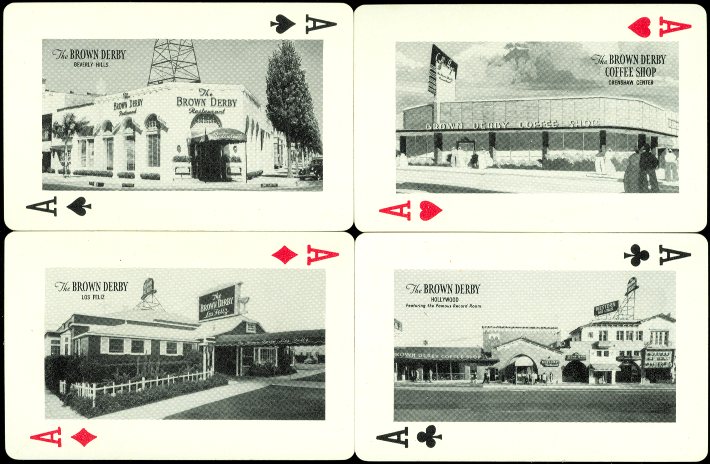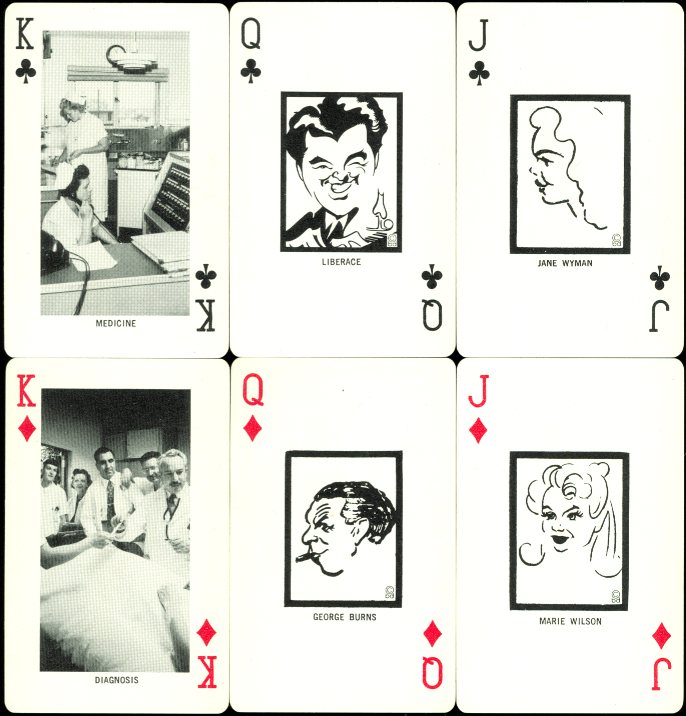 The jokers explain the reason for the deck and thank all those who were helpful with this edition.
| | | |
| --- | --- | --- |
| | Top of the two-piece box. | |