August 2008
A funny thing happened this month. When we were getting ready for the annual I.P.C.S. convention and rounded up the duplicate decks, that we wanted to take along, we found a card press and it contained a deck of cards. When we loosened the press and took it out, we were surprised by our own aptness to forget. It contained an antique deck that we had bought about a year ago. When we found it the cards were extensively played and heavily curved and we decided to put it in the press first, before storing the courts and aces in one of our plastic showcases. However, after a while we completely forgot about it.
Now it turned up at a good moment, as we haven't had any spectacular finds this month. In fact it was this deck or.......nothing!
| | |
| --- | --- |
| | The deck was most likely made by Conrad Ludwig Wüst from Frankfurt, Germany. Although the usual company logo, a star with C.L.W. in it, wasn't on the Jack of Clubs, the design of the backs -according to the experts on Swiss cards, Walter Haas, and on the Wüst company, Paul Symons- suggested the German origin. It is dated around 1875. |
The courts show local men and women in the costumes of their town or region. The aces town views and sceneries. On the kings a crown is placed above the suit to make them easy to recognize for the players. As a very small font is used, here below we'll give the names of the towns or regions that are represented by the courts. The names are printed in French, just like the titles of the aces, which show views from Switzerland too.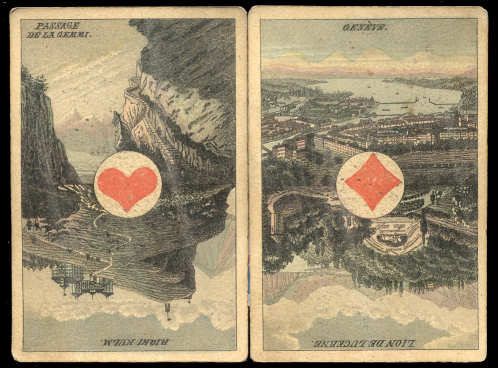 CLUBS
King: Neuchâtel / Tessin
Queen: Genève / Schwytz
Jack: Uri / Saint-Gall

HEARTS
King: Schaffhouse / Zug
Queen: Zurich / Valais
Jack: Grisons / Appenzell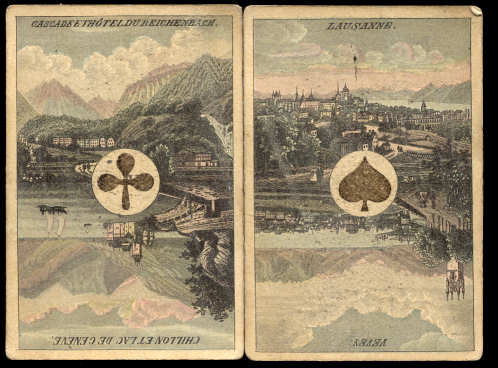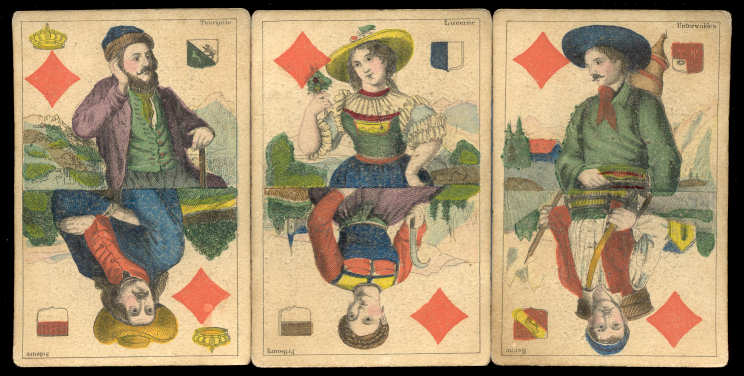 King: Thurgovie / Soleure
Queen: Lucerne / Fribourg
Jack: Unterwalden / Berne