Just like the "Joker of the Month" in the Jokers section we will select a "Deck of the Month" from all the decks that we could add to our collection during that month. It will be what we consider our best find. We've started this section in April 2007 and without any doubt we can say here that over the years there will be antique, vintage and modern decks shown on these pages. Age, design and value of the chosen decks may be very different each time.
November 2023
| | |
| --- | --- |
| | |
| I like round numbers, but this 200th Deck of the Month makes me proud too. It means that for 16 years and 8 months I've managed to keep the only important deadline on the first of each month. This together with a new Joker of the Month, which will reach the 250, when life will give me another 14 months. | So this milestone deserves something special here, something completely different, but still in playing cards form. There are a few Tarot decks in our collection, but in the 1920's a few makers have produced Mah-Jong decks too. We have one by Piatnik and by SN, but these have pretty standard designs. |
This one is different!
In the late 1970's we played a lot of Mah Jong with a befriended couple who lived nearby, but we used the well known stones in those games and not playing cards. A regular Mah Jong game is played with 144 stones or here playing cards. The 3 main suits of bamboos, circles and characters each have 36 cards. There are 4 cards of each number from 1 to 9, making a total of 108 stones/cards. The other 36 are divided into 9 foursomes: the honors 4 Winds (N, E, S, W) and 3 Dragons (White, Red, Green) and the optional 1 Flowers and 1 Seasons. Each with 4 stones/cards. All these suits are also found in the playing cards versions of Mah Jong by the Speelkaartenfabriek Nederland and Piatnik (see Bargains>Austria>OOS-027) .
However, the "Electric Mah Jong" here uses non-standard suits: cables instead of circles, valves instead of bamboos and telephones instead of characters. And that's not all. The non-standard dragons refer to electricity too: white = ether, red = aerial (symbol) and green = earth (symbol). Seasons and Flowers are replaced by periods (in telephone development) and symbols, here to advertise the Western Electric Co.
The reason for this: the deck was specially published by the Western Electric Co. Ltd. from London for the British Empire Exhibition in 1924. The cards were printed by Thomas de la Rue & Co Ltd. and the box was probably produced by or for them too. The deck has always had a special attraction because of these non-standard Mah-Jong suits and their designs. Besides the usual 144 cards there are 4 wind markers cards and 4 scoring laws cards too. The cards measure 50 x 82 mm and it's apparently a luxury edition, as they have shiny gold edges. The set is completed with a 12 page booklet, "the Pocket Guide to Electrical Mah Jong", and an Electrical Mah Jong score pad.
Mah Jong is a complicated game and I'm not going to explain all the rules here. There are websites for that. If you're interested, here's one.

For now....... enjoy this nonstandard Mah Jong version on playing cards.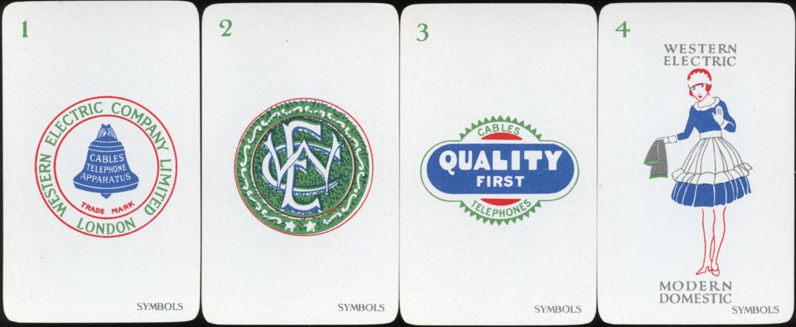 Optional cards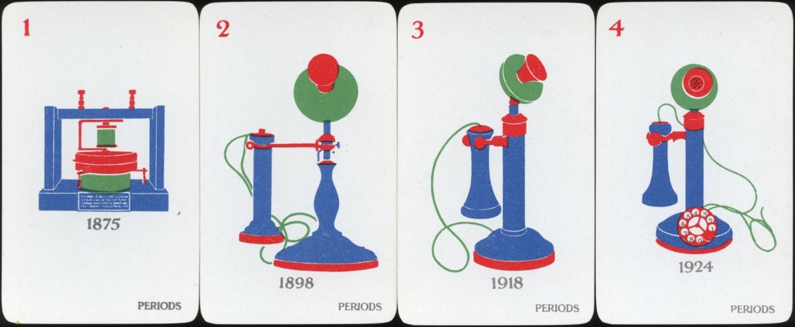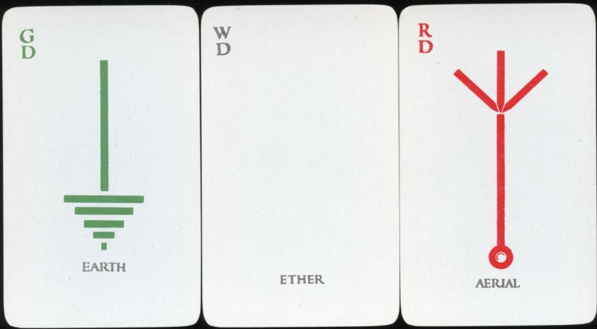 Honors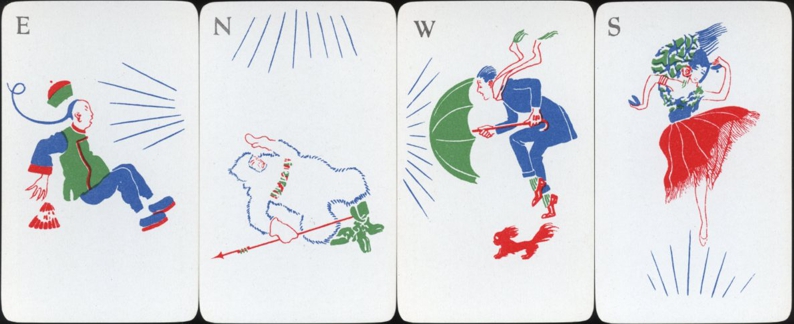 Click any of these cards to see the cards from 2 to 9 in each suit.
The wind markers are not used in the game itself, but are used to remind the players which wind prevails in a round. There are 4 scoring laws cards.