Just like the "Joker of the Month" in the Jokers section we will select a "Deck of the Month" from all the decks that we could add to our collection during that month. It will be what we consider our best find. We've started this section in April 2007 and without any doubt we can say here that over the years there will be antique, vintage and modern decks shown on these pages. Age, design and value of the chosen decks may be very different each time.
December 2018
December is always a bit of a hectic month, but this time I had taken a vacation from eBay. So there were not many decks to add to our collection, in fact the choice was between 2 decks, so a fairly easy one this time.
The other deck was a Bongout deck by Brepols & Dierckx Zoon from around 1890, but as you see we didn't choose that one. Instead this rather obscure deck with movie stars from the days of the silent film was appointed to fill this spot.
Because the joker didn't look familiar we decided to bid on this deck, although it was used and there was a card with a crease and one with a missing part of one corner. In the description on eBay it didn't mention a box, so when the deck arrived we were pleasantly surprised by its presence, although top and bottom are missing. At least we now knew the title of the the deck: KINEMA Souvenir playing Cards, with a sub-title "54 most prominent stars in filmdom". As publisher (manufacturer?) "the U. Souvenir Playing Card Company" is mentioned. The U probably stands for United.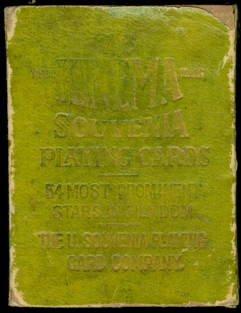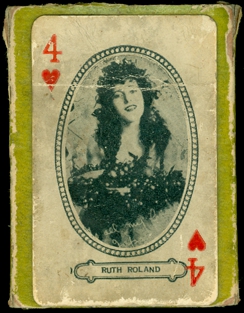 The design and layout immediately reminded us of the Movie Souvenir Playing Cards, that were printed by the USPCC and published by M.J. Moriarty in 1916. But in the Hochman (SE7) description is mentioned that although there have been several versions (with different actors) since 1916 the decks have always had the "Chariot race" back design and Charlie Chaplin as joker. Our deck had a different back design and the joker shows Jackie Coogan.
An other difference is the format of the cards. They are a bit smaller than usual (46x73 mm.), in between regular and patience size, in Dondorf terms they could be called "cartes pour dames". For North America it's an unusual format.
KINEMA

The use of the K for the C in cinema in the title of the deck is also highly unusual. The word KINEMA is also presented as "trade mark" on the box.
So we started searching for Kinema on the internet and this brought a possible origin. There were some links to a movie theatre called Kinema. The Sturton Town Hall in Cambridge, built in 1882, was named the Kinema in 1916 and movies were shown there until 1985. But it was not the only Kinema in the UK.
Although at the start in 1922 it was advertised as the "Woodhall Spa Pavilion Kinema" it was officially named "the Kinema in the Woods" because of its rural, woody location. Woodhall Spa is a small town in Lincolnshire, UK. The Kinema in the Woods started with showing silent movies by rear projection and since 1928 with sound. Though with more modern equipment, this original movie theater is still in business.

The found links all led to these two UK located cinemas, but of course it's possible that there have been a other movie theaters with that name in other parts of the UK too. No links to cinemas in other countries were found. Because this deck was possibly published as a promotional item for a cinema with the Kinema name, it's likely that the deck was produced in the UK too. The used card is of good quality and the cards have -although faint now- gold edges all around. So the deck must have been produced by a professional manufacturer. However, until now we haven't found a reference or picture of this deck in any of our books about English playing cards. So no reference, but for now we would say UK and as date..... early 1920's? Should any visitor have more info about this deck, we'll be happy to mention that here.
For now..... ENJOY!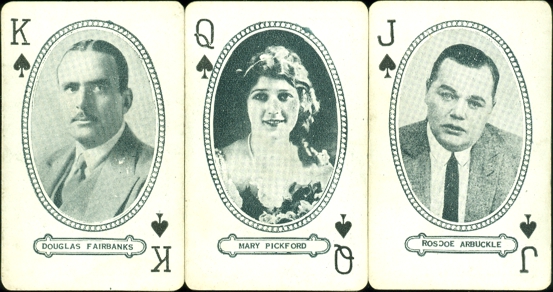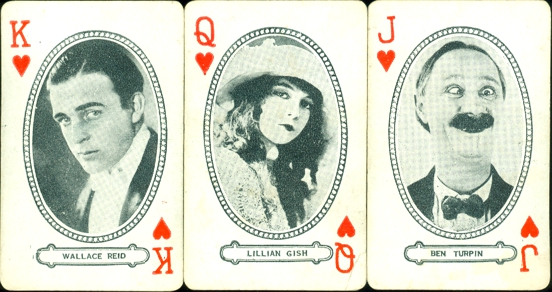 CLICK ANY ACE TO SEE ALL THE PIP CARDS.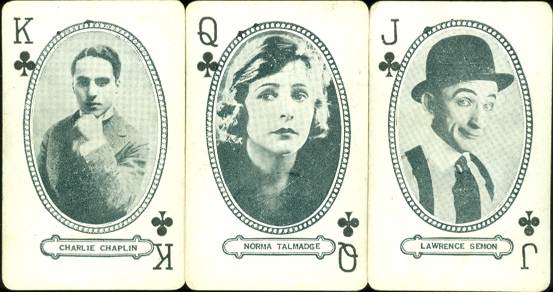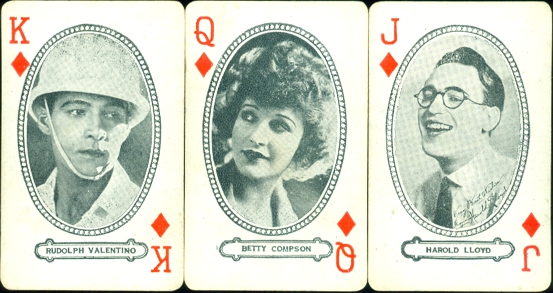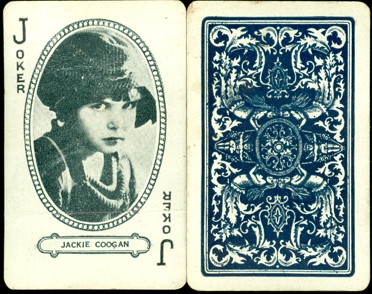 Although the box says 54 cards, our deck only had one joker.
It could well be a second joker, but also a blank or title card.
Whatever it was, it's missing from our deck.