Just like the "Joker of the Month" in the Jokers section we will select a "Deck of the Month" from all the decks that we could add to our collection during that month. It will be what we consider our best find. We've started this section in April 2007 and without any doubt we can say here that over the years there will be antique, vintage and modern decks shown on these pages. Age, design and value of the chosen decks may be very different each time.
February 2019
I.M.

Until now I have always spoken about our collection here, but this month my wife and lifelong companion Miriam has passed away. I will continue to speak of our collection, because it was Miriam who began with collecting playing cards and jokers. During the first year I acted as the designated driver to bring her to flea markets, collectors fairs or antique bourses. But walking along and browsing through the offer on the stalls I started to help finding decks for her too. My interest was aroused.

When Miriam had become a member of the IPCS and the 52+Joker clubs and we started to receive their Journal and CTD, I became just as an avid collector. We attended as many conventions as we could and Miriam and I enjoyed meeting other collectors from all over the world. We also enjoyed the hunting for playing cards together, whether it was at a fancy antique show or on a field somewhere in France. During the last years her illness forced her to step down bit by bit, but cards have kept her busy until the end.

MIRIAM VAN HOUTEN
12-05-1955 11-02-2019
So for this month a deck, which was the last deck that I had bought for her. Miriam has always loved cats, so it was no surprise that at some point she started a sub-collection of playing cards with cats. Over the years it grew into an overfull folder with sheets showing the catty courts.
This deck was published in Portugal as "Gatos Baralhados" by Apenas Livros from Lisbon in 2018. It shows 55 different designs with cats by Susana Resende. The deck consists of 52 cards and 2 jokers. The courts show colorful caricatures of 4 different cats and on the pip cards these same cats return in b/w drawings. There the drawings are a bit more realistic, with a semi-transformational twist.
I guess that Susana has (had) these cats at home.
It was the last deck that Miriam has enjoyed, so this one is for her...... and all the other cat lovers: ENJOY!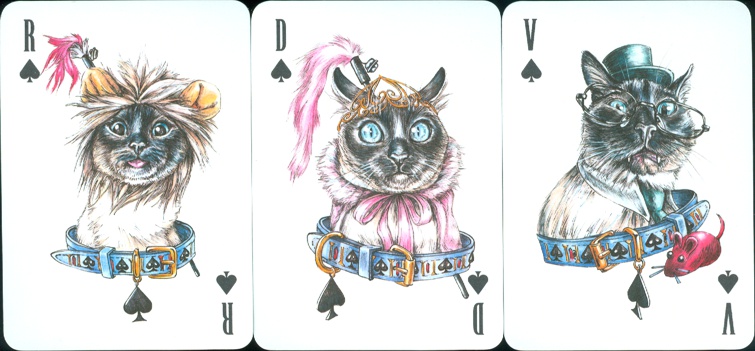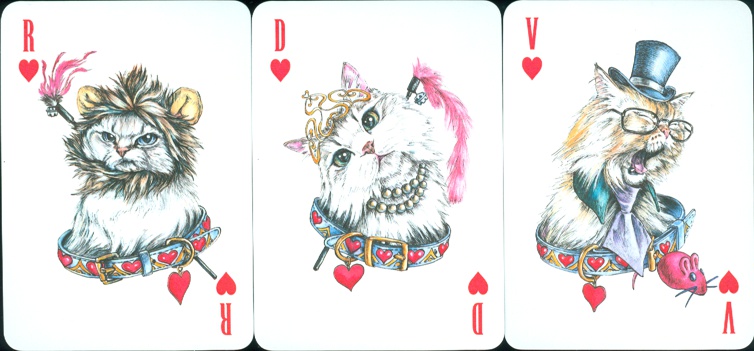 CLICK EACH ACE TO SEE ALL THE PIP CARDS OF THAT SUIT.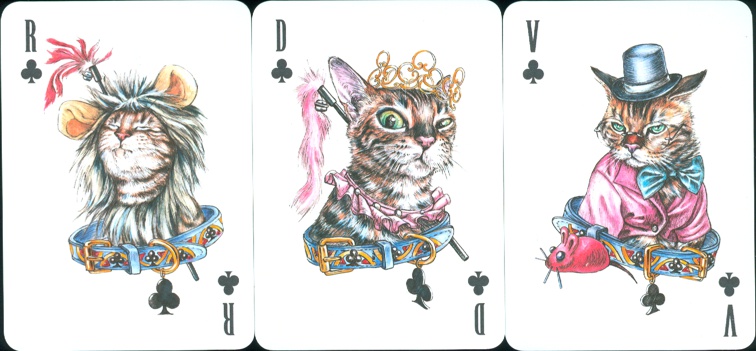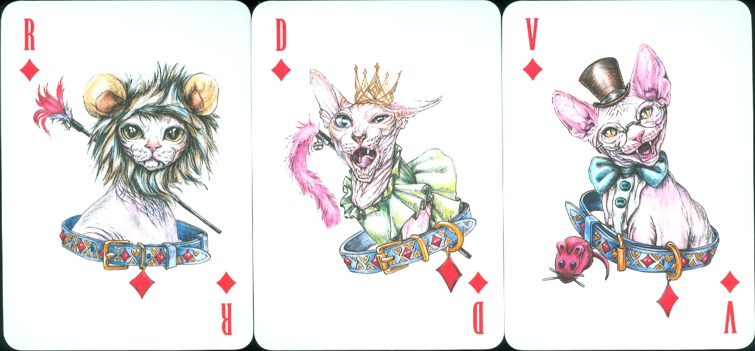 The deck consists of 52 cards and 2 jokers.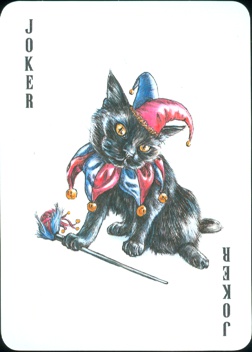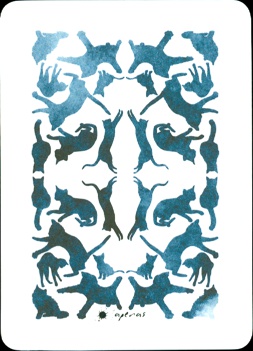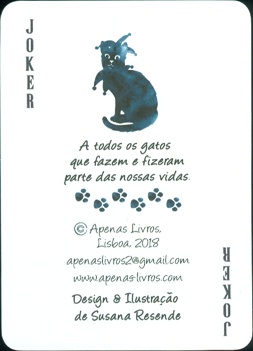 | | | |
| --- | --- | --- |
| | | |