COLLECTING PLAYING CARDS IN CHINA.
by Tao Liu
(vice chairman and secretary-general of the Council of the Chinese Association of Collectors of Playing Cards)
In China the earliest playing cards company was build around 1921. The name of this company was the Shanghai Cuihua Cards Factory. It was build in Shanghai by Disheng Huang. Before the founding of this company in China all playing cards were imported from the USA or other countries. Principal brands were "888 Bicycle" or "491 Camel" from the USA and "888" from Japan.
The origin of playing cards manufacturing in China is centered in Shanghai. Between 1931 and 2007 more than 35 playing cards factories were build, including the ones that have already gone bankrupt. At this moment there are over 70 playing cards factories throughout China.

The production of playing cards in China has only a history of about 80 years. So the history of playing card collecting in China is short too. During the last 20 years the number of playing card collectors has grown steadily. Today there are more than 1000 people that like to collect playing cards. There are about 100 collectors with specialties.
These playing card collectors have a special subject to collect, mainly "standard playing cards", "landscape playing cards", "persons playing cards", "animal playing cards", "advertising playing cards"etc. A few collect Jokers or Aces of Spades. Most collectors want complete decks, a few collect single cards.

The Queen of Clubs, 10 of Spades and the Joker from the Manchukuo deck, ca. 1940 - maker unknown - 57x87 mm.
(collection Tao Liu)
There are 15 playing cards associations in China now. The largest is the "Council of the Chinese Association of Collectors of Playing Cards". Other famous ones are the "Shanghai Playing Cards Collectors Club", the "Council of the Shanghai Association of Collectors of Playing Cards" and the "Council of the Zhejiang Association of Collectors of Playing Cards".
At this moment there are in China some magazines or newspapers about playing cards collecting. Famous are "China Playing Cards", "Collecting Playing Cards in China" and "World of Playing Cards".

<Front and back cover China Playing Cards magazine 2000/3>

The first published book about collectable playing cards in China has the title "A Selection of Chinese and Foreign Playing Cards Designs" and all the illustrations are in full colour.
Because of the language and information problems, the economy etc. there are rarely any meetings with foreign collectors. On 24 November 2004 Mr. Peterson and his wife came to Shanghai. He is the first to come to China for a face-to-face meeting between Chinese and foreign playing cards collectors. I believe that this meeting has been the start of more meetings between Chinese and foreign playing cards collectors. I personally also welcome overseas playing cards collectors to come to Shanghai and visit my home.
Tao Liu
And Tao Liu has send us some pictures of another vintage Chinese deck too.....
Click the box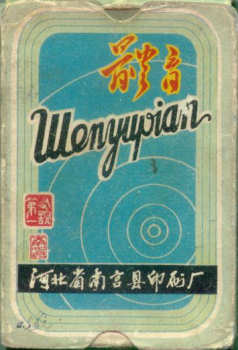 to see what's inside.
Chinese "wenyupian" playing cards
The decade between 1966 and 1976 is a special period in Chinese history. These 10 years are known as "The Cultural Revolution in China". During that time all kinds of playing card games were prohibit and at first playing cards were not printed anymore. So playing cards were close to extinction.
But in the beginning of the 1970's a few factories started printing playing cards again. They didn't call them "playing cards", but "wenyupian". On the court cards the English indices were exchanged for numbers: "A" became "1","J" became "11","Q" became "12" and "K" became "13". The name of the Joker was changed into "wenyupian" or left out. These decks are special in the history of Chinese playing cards. Nowadays they are very rare. Up to now some 100 decks were found in China.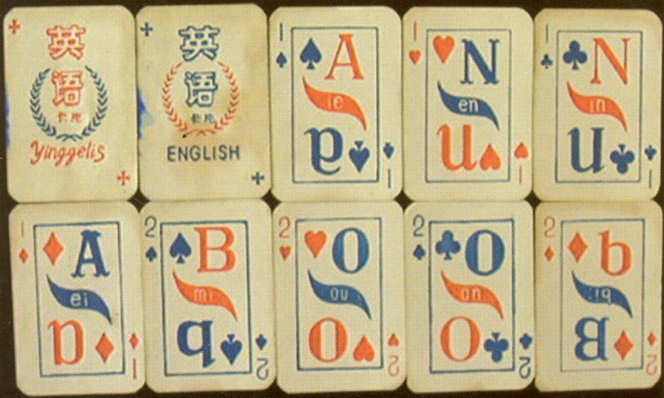 The deck from the back cover of the China Playing Cards magazine is another example. It was printed by the Fujian Quanzhou Paper Factory and published as English Jinlu cards around 1970.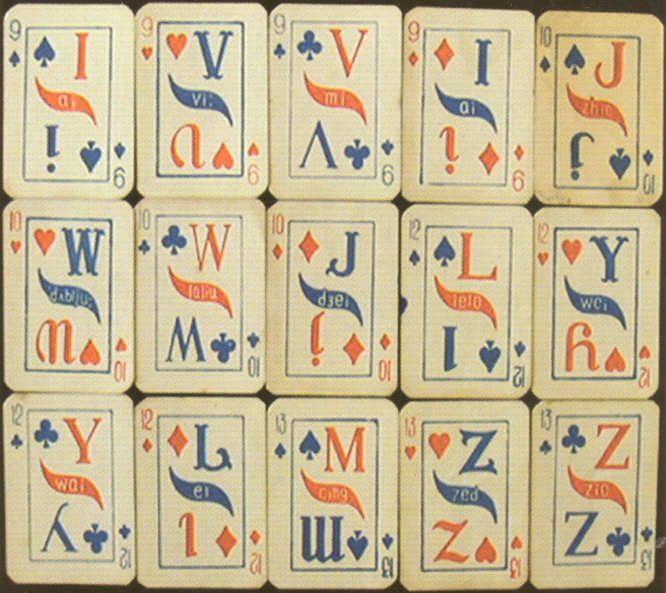 The topics of these decks are often "animal","sports","agriculture" etc. All have drawn designs and simple use of colours. These decks were mainly printed in Shanghai, Guangdong and Beijing. Most as tentative product print, in low quantities.
After that period the Chinese have not printed any similar type of playing cards. So these 10 years is playing cards in China special history.
Tao Liu