ČEDOK - INTERHOTEL #4
The deck was printed by the Obchodni Tiskárny Kolin N.P. (OTK) from Prague and published by the Interhotel chain in 1972. In the series of Interhotel decks it is the only deck, that has German suit colours and ranking. The "Dauss" (Ace) has two pips at the top, but can easily be distinguished from the Kings, who also have two pips at the top, but are all crowned. The Queens are called "Ober" in the German ranking and they have one pip at the top. The Jacks are called "Under" and they have a pip at the bottom. The deck has 32 cards.
Each suit represents a different period. The Hearts show how we enjoyed all the good thing in life in the days of Charlemagne, or at the time of the Austrian Empire (Bells) or during the the Napoleonic time (Acorns). The Leaves show the modern way of enjoying these pleasures...... in 1972.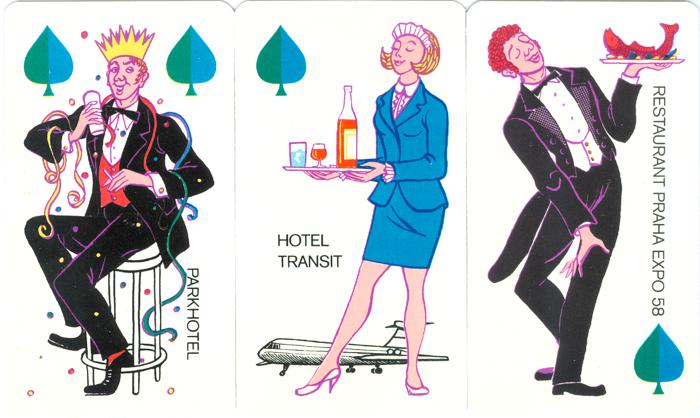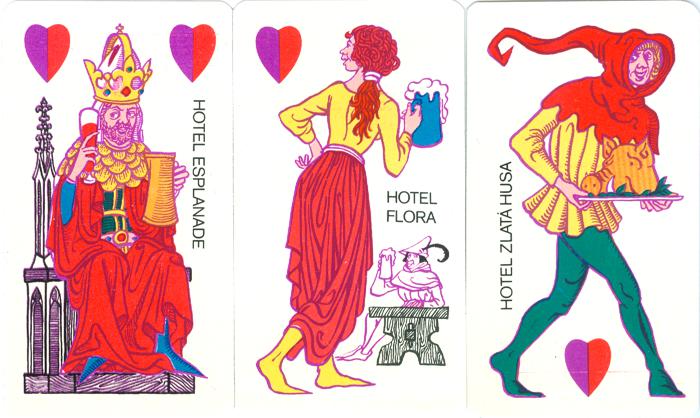 CLICK ANY ACE TO SEE THE PIPS.....