Rembrandt Harmenszoon van Rijn

was born in Leiden, Holland, probably on the 15th of July 1606. He died on the 4th of October 1669. He is considered to be the most important Dutch painter of the 17th century, but his name is known all around the world today and his work has become highly collectable. During his life he has made about 300 paintings, 300 etches and 2000 drawings. He has made many selfportraits, about 100 in paint and 20 as etches, that show the artist in the different stages of his life. Not only do we know his appearance, but also almost the way he felt. The wrinkles that were carved in his face by worries and misfortune need no further explanation.




Rembrandt is known for his mastering of light (and dark), but also for expressing in his work his involvement and compassion for his fellowmen, in disregard of their origin or wealth. These features make Rembrandt understood and appreciated around the world.




His close family, Saskia van Uylenburg (his wife), Titus (his son) and Hendrickje Stoffels (his mistress) are often depicted and have probably frequently modeled for the biblical or historical figures in Rembrandt's work.
The courts in this deck show Rembrandt on the Kings, Saskia on the Queens and contemporary scenes and figures on the Jacks. The Aces show the Dutch landscapes, that Rembrandt is well known for. Just a few simple lines may sometimes depict a boat, a fence or a figure in a lively and natural way. We present the Aces here twice, because -unlike the courts- they show 2 etches on each side.
| | | | | |
| --- | --- | --- | --- | --- |
| | | | | |
There's relatively little exact information about Rembrandt. He wrote only a few letters, kept no diaries or cash registers and has left hardly any notes. Rembrandt came from a family with nine children. His father was a miller and his mother the daughter of a baker. After the Latin School he was registered at the University of Leiden at the age of 14, but it is unknown if he ever studied there. At the age of 15 he was brought by his parents to the historical painter Jacob van Swanenburgh in Leiden for a 3 year apprenticeship that he finished in 1624. After a study, mostly compositions, for half a year in Amsterdam at the workshop of Pieter Lastman, he opened his own workshop in Leiden. There he worked together with his friend and co-worker Jan Lievens. In 1627 he became a master himself and took on apprentices, like Gerrit Dou and Gerbrand van Eeckhout.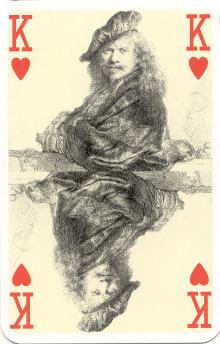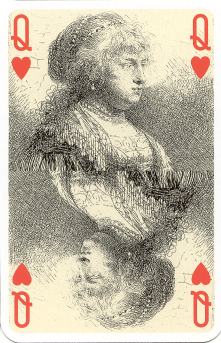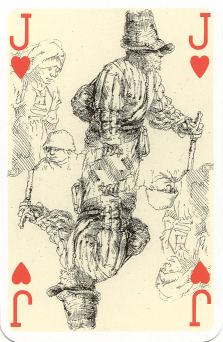 The name of Rembrandt got well known around Holland and he received several commissions from Amsterdam, so in 1631 he moved to Amsterdam and moved in with the art-dealer Hendrik Uylenburgh. He married his grand-niece Saskia Uylenburgh in 1634. Rembrandt work did well and in 1639 they moved to a grand house on the St. Anthoniebreestraat (now Jodenbreestraat).
-1- -2-