10th Anniversary of the Playing Card Museum in Issy-les-Moulinaux, France.
30/11/2007
A report & photo's
When we received the invitation for this event, it was clear that we should attend this milestone in the history of the museum. As we had already made other appointments for this Saturday, it was quickly decided that Miriam would fulfill our duties here and that I was going to be the lucky one to spend a few days in Paris. Here's my report....
The visitors were welcomed outside the museum by a funky band.

Of course the whole event was covered by a local television station

Inside there were already a few magicians doing their card tricks to amuse the crowd.
At that point there was also time to wander around this beautiful museum and see some of the collection on display. Here is a selection of the rare books, cards and decks that caught my eye this time......
like
an original handpainted card from the 14th century Visconti Tarot deck............................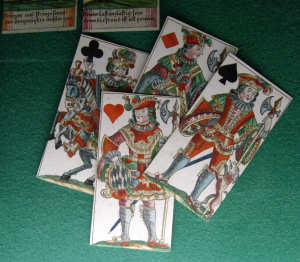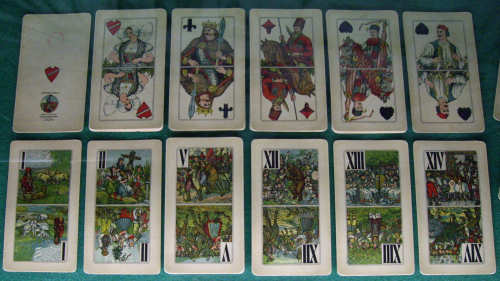 A Bavarian Tarot deck from the 19th century and a Slovenian one from ca. 1905.
| | |
| --- | --- |
| | The invitation promised a festive gathering with performances of magicians, clowns and spectacles. But first there was the formal opening. Mr. André Santini, the mayor of Issy-les-Moulinaux, accompanied by Mme Agnès Barbier, the museum conservator, addressed the public with a speech in which he highlighted all the important decks and events that the Museum had acquired and facilitated in the past 10 years. And then the party was on......... |
And when the French call performances "spectacles", well, there is something spectacular to be expected. Here the opening scene was done by 3 performers upon stilts completely dressed in white clothing, that after a few minutes blew up into grotesque proportions. Then, accompanied by ambient electronic music, a complex dance was shown, sometimes involving members of the crowd......
| | |
| --- | --- |
| Here's your reporter only a split second away from a big hug..... | |
And later on there were performances of live music too..........
in different styles and settings..........
Of course there was a buffet with excellent Mumm champagne and delicate hors d'oeuvres and it didn't take long before your reporter decided to set the camera aside and start enjoying himself. It was a great party!
J.