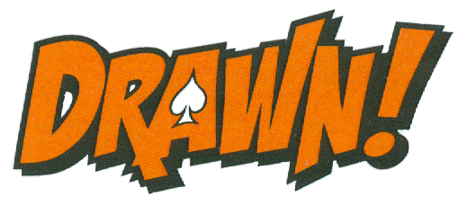 -01-
It's always a pleasure to visit the National Playing Card Museum in Turnhout and walk around between the old presses, see the impressive steam engine that provides the power for most of the machinery and look at a diversity of playing cards from the museum collection. But most of the time there are special exhibitions too and until 23 December 2016 there's one to show that Turnhout is not only the center of playing cards, but also the Flemish center of comic books.
The name of the new exposition at the National Playing Card Museum in Turnhout covers the exhibited art very well. Shown on the second floor are all the drawings and designs that have led to publication of a new deck. No less than 57 different Flemish comic book artists have contributed a design for a playing card and this has resulted in a colorful deck with a mixture of different styles.
The deck was presented for the first time during the opening of the exhibition in the museum at 14:00h on August 20. It was made possible by the cooperation of one enthusiast comic book collector, a museum director, a member of the city council and of course 57 artists, who have -without any hesitation- offered their participation. Printed by Carta Mundi, it was published in an edition of 1000 copies.
The opening of a new exposition is usually adorned by speeches, music, drinks and small snacks and here too all these fields were covered.
| | | |
| --- | --- | --- |
| | | |
Turnhout's City council member Astrid Wittebolle (left) also gave a speech to promote the deck and afterwards she posed with the publisher and three of the present artists. And there was music on the first floor by Unicorn Stable, a band from Gand.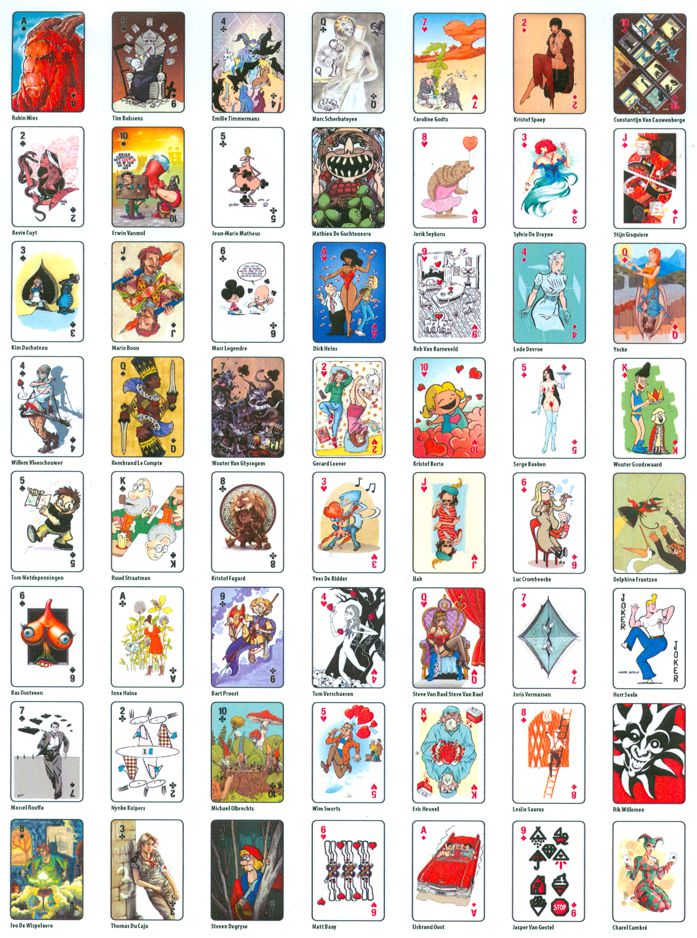 Besides the 1000 decks 250 uncut sheets have been published in a numbered edition.
The image above is taken from an A4 sheet, which was available at the opening.
It shows all the cards on the sheet, in the same order, but here all the names of the artists are mentioned beneath their card.
The back was designed by Ed van der Linden.
There were 18 artists at the opening to sign the cards, but apparently sheets with blank cards -but with the Drawn! back- have been printed separately.

These blank cards are a bit smaller than the cards in the deck. At the opening they were used by the artists to create a special drawing for the collectors of comic books. But of course the playing card collectors were served too. As Miriam couldn't attend this event, Joop asked several artists to draw a cat and dedicate the card to Miriam. She loves cats, so....